America's Best Leaders: Eighteen Who Motivate People To Work Together To Accomplish Great Things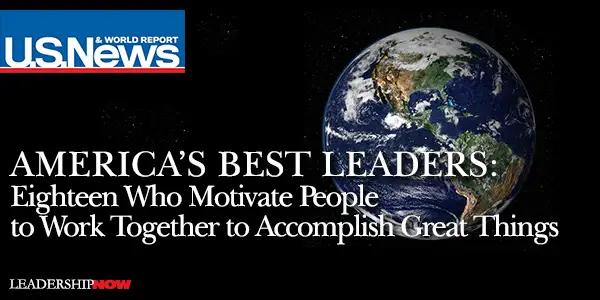 A
CCORDING to a recent Center for Public Leadership/
U.S. News & World Report
poll
, "more than three-quarters of the respondents say they believe the country is going through a leadership crisis, up 7 percent from last year, a trend stretching across all demographic and political groups. Nearly 80 percent feel that unless it gets better leaders, the country will decline, while 51 percent believe that the United States is already falling behind other nations. And about two-thirds say that today's leaders pale in comparison with those of 20 years ago."
Yet, U.S. News has found 18 people—America's Best Leader—they believe are helping to restore confidence in our leaders. The list is a collaboration between U.S .News and the Center for Public Leadership at Harvard University's John F. Kennedy School of Government.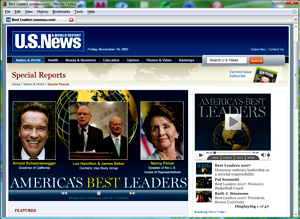 Leader
was defined as a person who "motivates people to work collaboratively to accomplish great things." They selected 18 winners, including two partnerships, from a field of more than 200. The panelists rated the nominees from 1 to 5 based on how well they met the following criteria: Sets Direction (25%), Achieves Results (50%), Cultivates a Culture of Growth (25%).
Here is the result:
Lee Hamilton and James Baker, Co-chairs, Iraq Study Group
Their report made it hard for even the war's firmest backers to argue for staying the course.
Kenneth Chenault, CEO, American Express Co.
He revived Am Ex after September 11 created financial headaches and personal heartaches.
Kenneth Fisher, Chairman and CEO, Fisher House Foundation
His foundation builds housing near military hospitals to accommodate soldiers' families.
William H. Foege, Senior Fellow, Bill and Melinda Gates Foundation
His work with immunizations for the Gates Foundation has saved millions of lives.
Michael J. Fox, Founder, Michael J. Fox Foundation
He has become the spokesman for Parkinson's disease and raised $90 million for research, too.
Mary Houghton and Ron Grzywinski, Cofounders, ShoreBank Corp.
Since 1973, their bank has invested dollars and hands in Chicago's grittiest neighborhoods.
Andrea Jung, Chairman and CEO, Avon Products Inc.
She transformed the 120-year-old cosmetics company into 'the Company for Women.'
Fred Krupp, President, Environmental Defense
He proved that teaming up with businesses was an effective way to solve pollution problems.
Nicholas Kristof, Columnist, the New York Times
In his columns, Kristof shows a new generation that journalists can advocate for change.
Yo-Yo Ma, Founder and Artistic Director, "Silk Road Project"
The cellist brought together the sounds from a historic trade route between Italy and Japan.
Nancy Pelosi, Speaker, U.S. House of Representatives
As the first female speaker, she says her election "broke the marble ceiling" of Congress.
Arnold Schwarzenegger, Governor of California
The former bodybuilder and actor works with the state Legislature in a nonpartisan way.
Ruth J. Simmons, President, Brown University
Her successful fundraising and introduction of need-blind admissions have made her popular.
Pat Summitt, Women's Basketball Coach, Univ. of Tennessee
She's had more wins to her name than any other college basketball coach in history.
Shirley Tilghman, President, Princeton University
Sitting on the board to pick the president, she impressed her colleagues--and they chose her.
Harold Varmus, CEO, Memorial Sloan-Kettering Cancer Center
He believes scientists' work should immediately be available online to everyone in the world.
This list certainly isn't inclusive and of course, it has its limitations, but it is worth reviewing for some insights into how these individuals developed their leadership skills. The individual profiles/interviews are worth reading.
Posted by Michael McKinney at 07:53 PM
Permalink | Comments (0) | This post is about Leaders