Our Strengths Are Not to Be Indulged, But Managed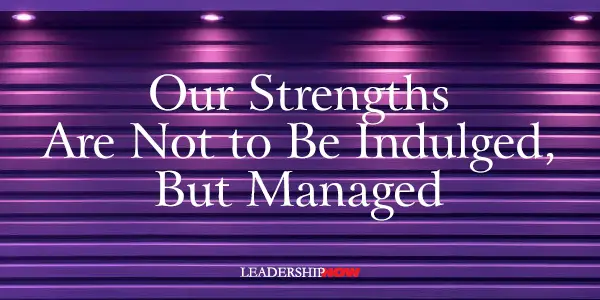 IN Marcus Buckingham's book, Go Put Your Strengths to Work, he presents three myths that we need to deal with in order to make the most of our strengths. The first myth is, "As you grow, your personality changes." The truth Buckingham says is, "As you grow, you become more of who you already are." As it is presented, there could be some confusion. There are a few issues that need to be considered.


There is personality, there is behavior and there are attitudes. Although they are dependent on each other and intertwined, they are not all the same thing. In any discussion about any one of them, we have to be careful about what we are talking about.
We all have traits that become more apparent as we grow and develop. These traits and talents—strengths—do not change over our lifetime. On the other hand, our behavior and attitudes can be altered, overhauled, modified, transformed or ignored. A scrooge can become generous. An approach that says, "Hey, that's just the way I am" is a recipe for self-destruction.
Buckingham contends that "as you grow, you don't change into somebody else .... Personality tests confirm this. Much as we would like to believe that we change as we grow, if we take a personality test twice separated by many years, the results from the two tests are almost exactly the same." This is true. However, what we are, how we are perceived, how we relate to others, is determined by and large by how we see ourselves and our world, how we see or filter our experiences—our attitude—and how we act based on what we think—our behavior.
We may be competitive by nature—our personality—but we need not behave in such as way as to be obnoxious, rude, inconsiderate or demanding. We need not see everything as an opportunity to conquer. We can develop that trait or strength into an asset or we can let it rule our lives by letting it run amok to the point where we become the jerk that Bob Sutton describes in his book, The No Asshole Rule. If we allow it, our strength sabotages us and ends up holding us back from achieving our potential and from functioning well with others. Strengths must be managed, not indulged. The character we develop functions to monitor our strengths so that they serve us and don't become a liability that holds us back.
With that in mind, Buckingham's point is well taken. It is imperative that we know ourselves—our personality, our strengths—and not try to be something we are not. If we don't, we diminish our effectiveness. Too often we head in a direction or a career path that does not compliment our innate strengths. These don't change over our lifetime, and when we work with them rather than against them we can have more effective and fulfilling lives and be of greater service in any area that we chose to make our contribution.
* * *


Like us on
Instagram
and
Facebook
for additional leadership and personal development ideas.

Posted by Michael McKinney at 12:31 AM
Permalink | Comments (0) | This post is about Books , Personal Development