If You Are a Leader, Expect Sabotage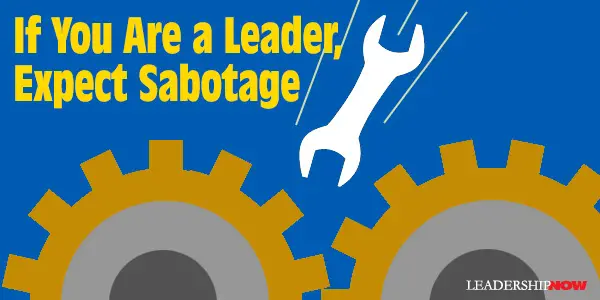 SABOTAGE "is part and parcel of the systemic process of leadership" writes Edwin Friedman in A Failure of Nerve. "Sabotage is not merely something to be avoided or wished away; instead, it comes with the territory of leading, whether the territory is a family or an organization. And a leader's capacity to recognize sabotage for what it is—that is, a systemic phenomenon connected to the shifting balances in the emotional processes of a relationship system and not to the institution's specific issues, makeup, or goals—is the key to the kingdom."
The "shifting balances in the emotional processes of a relationship system" just referred to, have a lot to do with people's insecurities, people trying to measure up and just trying to merely hold on to what they have or where they are. It is a reaction that some people get too strong and clearly defined leadership. Knowing that this is part of the leadership process and not an unexpected turn of events is helpful in maintaining a leader's authenticity.
An effective leader should expect to be attacked as a result of their leadership. Some people will react negatively to what a leader stands for and then begin a campaign of sabotage in order to draw attention away from themselves or the mission. Friedman says "this is the moment when a leader is most likely to have a failure of nerve and experience a strong temptation to seek a quick fix." This is the moment of truth. "A leader can never assume success because he or she has brought about a change. It is only after having first brought about a change and then subsequently endured the subsequent sabotage that the leader can feel truly successful."
* * *


Like us on
Instagram
and
Facebook
for additional leadership and personal development ideas.
* * *


Posted by Michael McKinney at 12:42 AM
Permalink | Comments (0) | This post is about Leadership