Employees Who Quit, But Stay On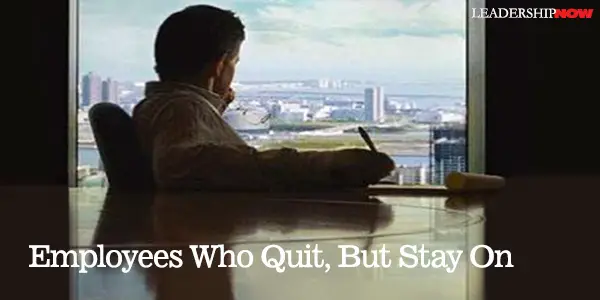 A
RE disengaged employees eroding your customer satisfaction, employee retention, productivity and profitability? Research has shown that the average employee engagement figures for the United States are:
30% Engaged, 54% NOT Engaged and 16% Actively Disengaged
. Keith Ayers in his book,
Engagement Is Not Enough
, says that
it is a leadership issue
and the problem is critical. "Like a cancer, they spread their discontent and do their best to turn the engaged employees against you as well. Even if they don't succeed, they will undermine the good work your engaged employees are doing by failing to complete their part of projects on time or lowering the overall quality of the job."
According to the Gallup Organization, the problem usually begins in the first six months when an average of over 60% of employees switch off. This is basically due to the perceived realization that their expectations are not going to be met. They feel powerless to fix the situation and give up but stick around at your expense. Ayers, warns us to avoid four primary obsessions that often result in managers unintentionally increasing the spread of the cancer of disengagement:
An obsession with financial results. "To drive myopically toward profit or achieving budget alone, ignoring the needs of employees, customers, and the culture and the values of the organization, is very costly to results." How much more could you "achieve with passionate employees who go to extreme lengths every day to give their best performance?"
An obsession with control. "Control-based leaders assume that people cannot be trusted and send that message to their team. These autocrats are a liability to the organization, squashing natural enthusiasm, creativity, and ambition and driving away the most talented employees."
An obsession with avoiding responsibility. "The number one cause of lack of engagement, poor employee performance, and staff turnover is the relationship the employee has with his or her immediate supervisor. If your team is not performing the way you want them to, first look at whether the leadership they are getting from you is what they need to be able to perform at their best."
An obsession with logic. "Managers obsessed with logic and left-brained thinking are dismissive of feelings—they say that emotions don't belong in the workplace. They do not believe engagement has anything to do with organizational performance or that people can be passionate about their work. Managers need to understand that emotional intelligence and right-brain thinking are critical skills to become successful leaders in the new global economy."
Ayers offers a discussion of the leadership skills you will need to develop to create passionate employees. He correctly notes, "By now you may be thinking, 'Don't the employees have a responsibility to be engaged and perform at their best?' And you're right, they do. They should be engaged. But the reality is, in an average organization, 70 percent of them are not! Being right about what they should do won't make them more engaged. Being effective as a leader will."
According to The Conference Board of Canada, they reported that in looking at a cross-section of studies, that all studies, all locations, and all ages agreed that the direct relationship with one's manager is the strongest of all drivers. Not surprisingly then, they also reported that larger companies are more challenged to engage employees than are smaller companies.
* * *


Like us on
Instagram
and
Facebook
for additional leadership and personal development ideas.
* * *

Posted by Michael McKinney at 12:24 AM
Permalink | Comments (0) | This post is about Leadership , Management , Motivation