Caught in a Dilemma: Hard Choices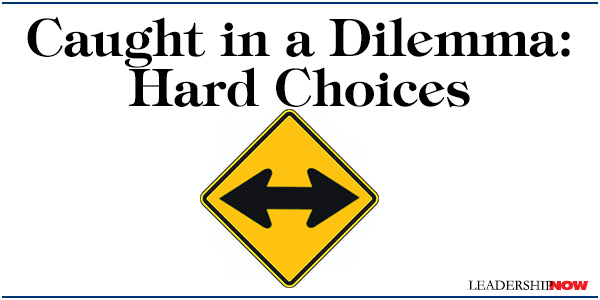 The Book of Hard Choices
is a book about
integrity
. We are reminded that integrity is one of those words that doesn't mean a thing until it becomes behavior. And it's all the more important in difficult and challenging circumstances. Eventually, your integrity will be put to the test.
The authors James Autry and Peter Roy have found that the really tough choices are not about money but relationships. And the little everyday stuff is just as important as the big dilemmas. They write, "Once you recognize that your integrity is on the line every day, then your work life takes on a different meaning."
As organizations have pressured their workers to work harder and work longer, they have helped create an atmosphere in which the concepts of civility and cooperation are lost in the hurry-scurry of a high-pressure workplace.

This means you have to be careful with your own language. You must take time to express yourself calmly and carefully, especially when telling people something they may not like to hear. There's a thin line between being frank or honest and being tactless. There's also a measure of integrity in how you speak to people, in your body language, in your tone of voice.
Using a series of 23 stories the authors offer up hard choices that we any one of us could face. For example, do you go for the quick fix or teach values first? When the pressure is on to turn things around, the temptation is to skip over a lot of the "pleasantries." In their example, the CEO said that first, you need to lay out the ground rules and be consistent. "It always starts with respect, and that means respect even under pressure. It takes more time to treat people with respect, and when you are under pressure, it seems counterintuitive to insist on something that takes more time. But without the value of respect, nothing else works.
He continues, "Of course you can always try the quick fix, but most of these companies didn't get into a mess overnight. You can apply the Band-Aid if you're just planning to flip the business, but I'm not looking to do that. I'm looking to provide a foundation for growth. So if you're planning to really turn the business around you've got to start with basics. No turnaround will be lasting unless you start with the basics. And I think there has got to be leadership by example."
This is great advice. And of course, it applies in all kinds of relationships. It is a foundation of all relationships—both work and personal— of counseling and of creating a learning environment. Most problems we face weren't created overnight and require to time to bring about a long-term fix. We can't afford to overlook this first crucial step.
* * *


Like us on
Instagram
and
Facebook
for additional leadership and personal development ideas.
* * *


Posted by Michael McKinney at 08:35 AM
Permalink | Comments (0) | This post is about Books , Ethics