Integrity is the Key to Success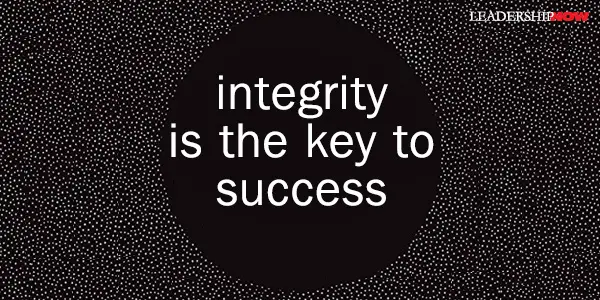 FOR THOSE WHO WISH to increase their performance or to help others to do so, Dr. Henry Cloud believes integrity is the key. By integrity, he means being a whole, integrated person. It's about wholeness. It means a person who is "running on all cylinders." It's more than simple honesty and ethics.
In his book, >Integrity: The Courage to Meet the Demands of Reality, he focuses on the essential need for the character development necessary to make a person or an organization successful. The concept is built upon six traits of integrity:
1. Establishing Trust. This is the ability for someone to get outside their reality, agendas and concerns and connect with, understand, and work with the realities and concerns of the other person or people.
2. Orientation Toward Truth. This gets at the ability to operate in reality and deal with it.
3. Getting Results. Beyond a work ethic and working hard this trait is about how a person is put together that actually causes hard work and effort to end up in real results.
4. Embracing the Negative. Those who succeed are those that understand that life is about solving problems. They seek out the problems and develop the ability to solve them. The ability to move something forward when something bad happens.
5. Orientation Toward Growth. Not the desire to maintain but a real desire to grow and increase.
6. Orientation Toward Transcendence. The ability to see the big picture and to serve something larger than yourself.
Any of these areas can be developed, but growth won't happen because you feel you ought to do this. "Ought " is not a good motivator. So how do you change? Cloud suggests:
People change when they play the "movie," which is to take a hard reality look at your life and work, then play that reality forward to see if you like the way the future movie of your life and career plays out. In that way, people begin to experience the future losses, rewards, and consequences right now and get with reality. When you look, for example, at your present performance, and the things that you are not getting, and then you realize that if you continue to do the same things expecting different results, you will never get what you want, you will change.
* * *


Like us on
Instagram
and
Facebook
for additional leadership and personal development ideas.
* * *


Posted by Michael McKinney at 04:00 AM
Permalink | Comments (0) | This post is about Books , Personal Development