Before You Accuse, Ask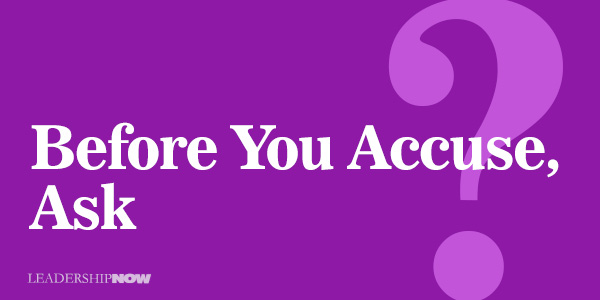 LEADERS not only ask smart questions, but are smart about asking questions. And listening. A good question can change everything. Gordon MacDonald maintains that a key to effective leadership is the ability to ask the right questions at the appropriate time that will elicit insight and clarity. Of course, that's not always an easy thing to do. It takes thoughtful practice. He writes in the Fall 2006 issue of the Leadership Journal, "That's the power of the interrogative sentence. A good one, a real good one, alters things. It ignites thought; it can demand commitment, reveal depth or shallowness in a person's soul, disclose hidden agendas."
He writes about all kinds of questions, but there was a section that was especially helpful. He referred to times when we should be asking questions when we desperately want to be talking—like when we feel we have been wronged or run into conflict with another person or organization. The temptation is to launch an attack, lay down the law, or simply explain our point of view and let the pieces fall where they may. MacDonald wisely advises that instead, this is the time to proceed first with a few questions. He writes:
Over and over this principle—ask before accusing—has rescued me from making a fool of myself. So in conflicting moments I've learned to use questions like these:

I need to tell you about an impression I have and ask you if it's accurate.

I want to play back to you what I thought you said the other day and ask if my perception is correct.

What message were you hoping I'd get when you…

Would you be open to some thoughts from someone who really cares about you?

Have you reflected at all how you're coming across in this situation?

What if the choices you've been making are not only going to hurt you but some other people you say you care about?
The ability to ask smart questions requires that you take the time to think beyond the issue on the table and see often times what are the real underlying issues.
* * *


Like us on
Instagram
and
Facebook
for additional leadership and personal development ideas.
Posted by Michael McKinney at 07:20 AM
Permalink | Comments (0) | This post is about Personal Development