The Fred Factor for Kids ... Too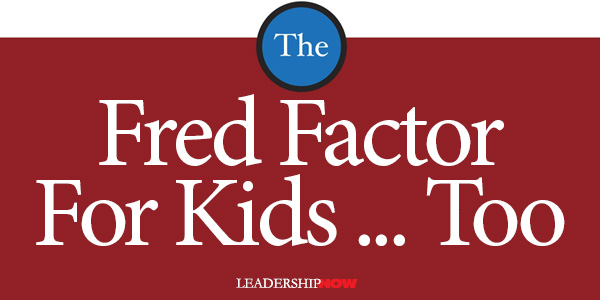 I thought I'd pass this along for the Father's Day weekend. This is a timely piece from Mark Sanborn author of The Fred Factor one of our picks for Best Leadership Books of 2004. Mark writes:

Proverbs 22:6 says, Train a child in the way he should go, and when he is old he will not turn from it.

Parents and educators frequently remind me about the importance of teaching the principles of The Fred Factor to children. The only thing better than learning these lessons as an adult is learning them as a child. The sooner someone understands these timeless truths, the sooner they'll start experiencing the benefits in his or her life. Both the individual and the community are served by the integration of these principles and practices.

I was fortunate to have good teachers who instilled in me a love for learning. In high school, I did a combined vocational education and college prep curriculum. Since I was a farm kid and had gotten my start in speaking in 4-H, I wanted to belong to the Future Farmers of America (now FFA), and the only way to do that was to take vocational agriculture classes.

Without a doubt, the most important skills I learned in high school were through my participation in the FFA. The regular coursework was necessary for my future success in college, but FFA taught me things like teamwork, parliamentary procedure, leadership skills, public speaking and the importance of service. Although at the time I didn't use the same words and terminology I used in The Fred Factor, I was learning the same principles for success in life.

Vocational education organizations like FFA, FHA, VICA, DECA, and others play a crucial role in teaching students skills rarely learned elsewhere in public instruction. Many students don't get a chance to participate in these organizations, so the involvement of parents in making sure kids learn these things is necessary.

Kids need to know that they do make a difference. They need to know that education isn't a preparation for life—education is life. Students shouldn't feel like they're in a holding pattern while in school, unable to truly experience life until after they graduate. They need to understand how to build healthy relationships and use their creativity to create value for themselves, their family and friends, and for an employer. And importantly, young people need to realize that each day is a chance to try again, to be better than the day before, no matter how good or bad the day before.

Talk to your kids about the principles of The Fred Factor. If they're old enough, have them read the book and discuss with them the ideas they encounter.

We'll all be better for it.
Check out the Fred Factor Web Site for resources and to subscribe to The Fred Factor eZine.
* * *


Like us on
Instagram
and
Facebook
for additional leadership and personal development ideas.

Posted by Michael McKinney at 01:20 PM
Permalink | Comments (0) | This post is about Books , Leadership Development