How to Craft a Winning Speech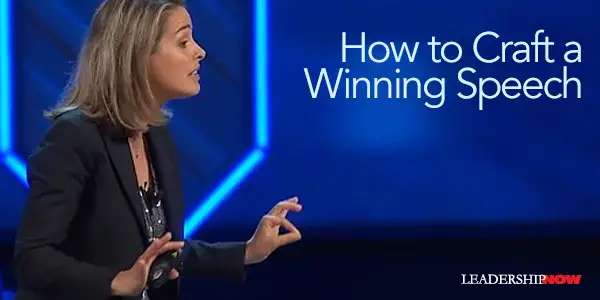 PROFESSIONAL speechwriter Andrew Wilson offers some tips for crafting a winning speech. First, three cardinal rules:
1.Speak from the heart. Talk about the things you really know and care about.
2. Don't shy away from conflict. Conflict, and the resolution of conflict are the central elements in storytelling and all forms of dramatic expression—including speeches.
3. Get inside the minds of the audience. Speak to their needs and concerns or their shortcomings or failings. People will accept criticism but they don't want to be finessed.
Next are some techniques that are useful in thinking through a speech from start to finish:
1. Open with a bang. Don't waste time with niceties. Aim to capture your audience with your first words.
2. Tell stories and look for ways to build suspense. You build suspense by creating a potential disaster and delaying the moment of truth.
3. Write for the eye, the ear, the nose, and all the senses. In other words, be as vivid as you can.
4. Create a plot just as you would if you were writing a short story. Most plots have a protagonist and an antagonist—or a good guy and a bad guy.
5. Show first, then tell, using examples and stories that lead (through various twists and turns) to a few easily stated and readily understood conclusions.
6. In ending a speech, it is usually a good idea to hark back to the beginning—giving the audience a satisfying sense of coming full circle.
* * *


Like us on
Instagram
and
Facebook
for additional leadership and personal development ideas.

Posted by Michael McKinney at 07:22 AM
Permalink | Comments (0) | This post is about Personal Development