Moving Beyond Company Organization Silos: Lessons from the Aviation Industry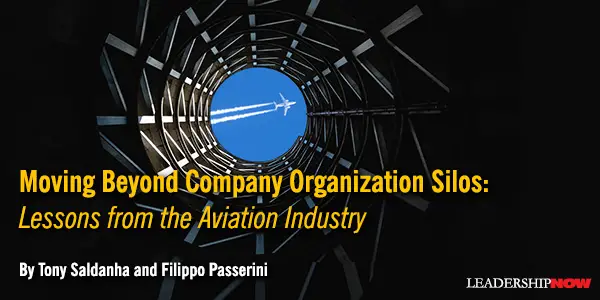 IF YOU'VE HAD to be on a plane in the last year or so, especially within the U.S., you'd likely agree with the NBC News proclamation that "the days of fun flying are long gone." Between surging demand, labor shortages, outdated air traffic management, and travel reservation I.T. systems, air travel feels a bit more like a chore than like a treat.
In the U.S., airline companies have pointed fingers at the Federal Aviation Administration (FAA) as the biggest cause of outages, even as the FAA has fired back at airlines. That's a shame because the aviation industry as a whole still continues to be an industry model for how to operate with extremely high reliability despite having a highly fragmented set of organizational entities. Yes, we realize this sounds counterintuitive to anyone who's dealt with a flight delay or a lost bag, but hear us out.
If you think the business processes in your own company are complex, try running an operation globally that moves 5 billion passengers every year in roughly 25,000 commercial aircraft, via 15,000 airports located in 195 countries. And do that with over 99.999999 percent reliability. And just to make things interesting, do it in a decentralized organizational construct where laws, standards, and procedures aren't as tightly controllable as within a single company. There's no single CEO-like entity and no hierarchy for single accountability.
In fact, deep lessons can be taught from aviation for most industries and companies who want to operate efficiently and effectively across organizational silos — those insidious barriers that wreak havoc on a company's efficiency, collaboration, and, ultimately, its bottom line.
The Insidious Effects of Organizational Silos
First, what exactly are organizational silos? They aren't the structures you'll find on a farm, nor are they ancient fortifications protecting valuable treasures. They're the metaphorical walls that separate different departments or teams within an organization. These walls are worse than the physical ones. They result in information hoarding and lack of communication.
The biggest challenge for companies when it comes to operational excellence is siloed behavior. Even worse, functional processes — finance, human resources, sales, etc. — become ineffective with time, as they operate in silos as the company grows.
This issue can become a major performance barrier. Recall how the U.S. Federal Bureau of Investigation (FBI) faced significant challenges in the aftermath of the 9/11 attacks. The lack of information sharing between different divisions hindered its ability to prevent the attacks. This tragic example demonstrates how silos can have real-world consequences.
What We Can Learn from Aviation Regarding Moving Beyond Siloed Operations
The aviation industry operates with high reliability despite its massive complexity. True, we can point to the fact that airplanes are massively engineered for reliability, but let's look beyond the machinery. The industry directly employs more than 11 million people with varying capabilities around the world. They operate everything from ticketing to airport operations, to aircraft maintenance, to luggage and food services. The fact that such a complex, decentralized, sprawling operation delivers reliable (albeit not always likable) results is a minor miracle.
The aviation industry can teach us about business process excellence in decentralized and complex setups. For instance, how has it minimized the defects that occur in handoffs from one team to another? And how does it address the organization issues of functional silos across thousands of companies?
To understand how aviation has achieved process excellence, we need to back up a bit. It's helpful to first understand the various stages involved in improving business processes. In general, business processes achieve excellence via five discrete layers of action:
Fix non-standard processes: This is the starting point. Imagine what might happen if there were different steps for each country, or each airline, when it came to handling Air Traffic Controllers' (ATC) control transfers. That's the first step in improving processes.
Synchronize siloed processes: Imagine if ATC activities were standard but siloed off from other aviation processes, such as airport gate management. Handoff errors would result. This step addresses that.
Execute End-to-End (E2E) processes consistently: Assume that terminal check-in to gate management to ATC processes have been synchronized, but executional discipline is spotty. That can occur because it takes time to stabilize processes. Handoff errors may still occur.
Add robust fail-safe designs to E2E process execution: Assume that processes from terminal check-in all the way to ATC are well executed. However, if no fail-safe procedures have been designed for the rare situations where problems occur, there will be occasional blowups. That's because while processes are efficient E2E, there's no Unified Accountability for an employee to circumvent or fix perfect-storm-type issues.
Design roles for Unified Accountability of Outcomes: At this stage, employees are empowered both to achieve near-zero defects and to constantly evolve processes to keep up process excellence.
The aviation industry has designed its business processes for clear handoffs and accountability. For instance, there's clear accountability for customer outcomes at each step of the passenger's journey — the check-in agent for checking in, the gate agent for boarding, the pilot for in-flight travel and safety, the ATC for cross-airplane safety, and so on.
By contrast, business processes in most organizations still struggle with siloed accountability. Take, for instance, the order-to-cash (O2C) or the expanded quote-to-cash (QTC) business process, which runs from taking customer orders, to processing them in an I.T. system to delivering the product via logistics operations, to collecting the cash from customers. There is, on average, a 30 percent loss of efficiency in operating this across the siloed functions of sales, I.T., logistics, and finance. And that loss doesn't account for the impact on sales growth.
A study by McKinsey specific to the business-to-business (B2B) area suggests that businesses that optimize QTC for end-to-end accountability significantly outperform peers that don't. They grow four times versus the competition by adding more new accounts, expanding existing accounts, and retaining them at higher rates. And the opportunity only grows when country and regional organization silos are factored in.
What You Can Do to Operate Beyond Organizational Silos
The key is to drive towards clear and unified E2E accountability for a process outcome. The driver of Unified Accountability is one of the three levers of revolutionizing business operations. Here are the initial steps to get going:
Commission a study to determine the functional processes that could be aggregated into a centralized "shared services" organization. Assign a multifunctional team, sponsored by senior leaders, to oversee the study and formulate a recommendation.
Define the scope of the work by applying best-in-class principles. Candidates for newly created organization processes include those that are common across business units/markets, that are transactional in nature, and that can be "operationalized."
Assign a leader to this organization and establish a leadership team to support that person. Initially, such a team can be pragmatically formed by the process owners of the work in scope (H.R., finance, I.T., etc.). This team's deliverable is an integrated business plan, which must include minimum price and service-level commitments as well as strategies for greater value creation.
Migrate the process operations from the functional organizations to centralized "shared services." We recommend doing this in stages, as opposed to a "big bang."
Redesign rewards and recognition programs for employees to strengthen the delivery of E2E process outcomes.
Finally, remember that when it comes to organizational silos, the best strategy is to tear them down before they tear your company apart.
* * *

Tony Saldanha
is CEO/Co-founder of Inixia, the global standards and certification body for the Shared Services industry. He formerly ran Procter & Gamble's famed multi-billion-dollar Global Business Services (GBS) and I.T. operations in every region across the world.
Filippo Passerini
's leadership as President of P&G's Global Business Services and CIO has been recognized as best-in-class in the industry. His strategies appear in numerous books, articles, and business reviews. He is currently a consultant to several companies and C-suite executives. Their new book is
Revolutionizing Business Operations: How to Build Dynamic Processes for Enduring Competitive Advantage
(Berrett-Koehler Publishers, 2023). Learn more at www.RBO-book.com.
* * *


Follow us on
Instagram
and
Twitter
for additional leadership and personal development ideas.
* * *


Posted by Michael McKinney at 06:40 AM
Permalink | Comments (0) | This post is about General Business