Leading Thoughts for November 9, 2023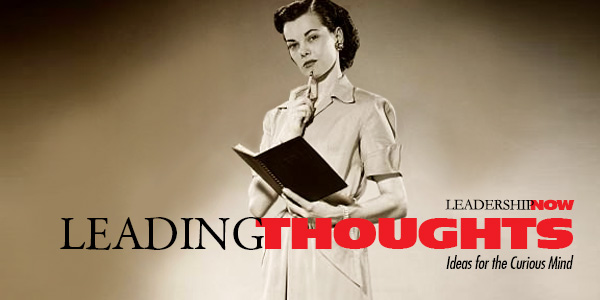 IDEAS shared have the power to expand perspectives, change thinking, and move lives. Here are two ideas for the curious mind to engage with:
I.
William H. Danforth, founder of the Ralson Purina Company on giving your life away:
"Our most valuable possessions are those which can be shared without lessening: those which, when shared, multiply. Our least valuable possessions are those which, when divided, are diminished."
Source: I Dare You
II.
Charlie Gilkey on dragons:
"There be dragons on the journey to thriving and doing your best work. Dragons aren't a signal that we're on the wrong road but rather that we're on the right road. So the next time you're dismayed or hesitant because of a dragon guarding the way forward, embrace that it's there precisely because it's the way forward and charge headlong at it. You were made to beat dragons."
Source: Start Finishing: How to Go from Idea to Done
* * *
Look for these ideas every Thursday on the Leading Blog. Find more ideas on the LeadingThoughts index.
* * *


Like us on
Instagram
and
Facebook
for additional leadership and personal development ideas.

Posted by Michael McKinney at 05:47 AM
Permalink | Comments (0) | This post is about LeadershipNow 140