Leading Thoughts for September 21, 2023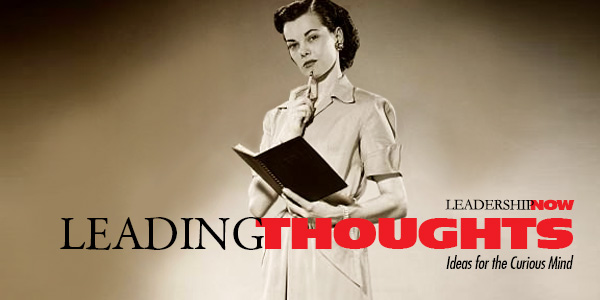 IDEAS shared have the power to expand perspectives, change thinking, and move lives. Here are two ideas for the curious mind to engage with:
I.
John Tierney and Roy Baumeister on it's what you don't do:
"Being able to hold your tongue rather than say something nasty or spiteful will do much more for your relationship than a good word or deed.

"Remember the Negative Golden Rule—it's what you don't do unto others that matters most—you can avoid grief and save energy."
Source: The Power of Bad: How the Negativity Effect Rules Us and How We Can Rule It
II.
Sean Glaze on complacency:
"Being uncoachable is really about being stuck in a comfort zone that a person refuses to acknowledge or leave.

"Turns out most people want to get better, but they want to do it their way. That usually means doing what they already know, which is just repeating the same stuff that got them stuck. "
Source: Staying Coachable
* * *
Look for these ideas every Thursday on the Leading Blog. Find more ideas on the LeadingThoughts index.
* * *


Like us on
Instagram
and
Facebook
for additional leadership and personal development ideas.

Posted by Michael McKinney at 06:53 AM
Permalink | Comments (0) | This post is about Leading Thoughts