Leading Thoughts for August 31, 2023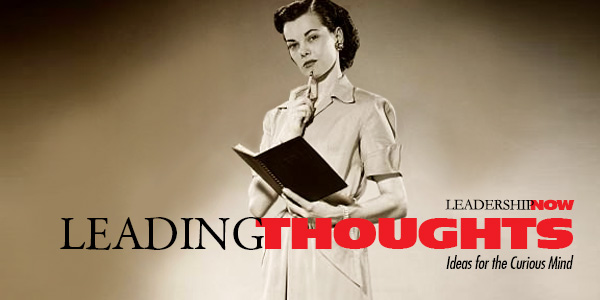 IDEAS shared have the power to expand perspectives, change thinking, and move lives. Here are two ideas for the curious mind to engage with:
I.
Associate Professor Tod Bolsinger on leading change:
"Groups are hardwired to believe that survival usually means reinforcing the way things have always been. So when an organization feels stress, the default behavior of most organizational leaders is to solve the problems for our organizations rather than change our organizations for meeting the needs of the world. The result is that instead of undergoing transformation to be more effective in our mission to serve the world, organizations unconsciously reinforce the very status quo that is not working."
Source: Tempered Resilience: How Leaders Are Formed in the Crucible of Change
II.
Science journalist Mark Buchanan on great individuals:
"What makes an individual notable and 'great' is his or her ability to unleash pent-up forces—the will of an age—and so enable those immeasurably greater forces to have their effect."
Source: Ubiquity: The Science of History . . . or Why the World Is Simpler Than We Think
* * *
Look for these ideas every Thursday on the Leading Blog. Find more ideas on the LeadingThoughts index.
* * *


Like us on
Instagram
and
Facebook
for additional leadership and personal development ideas.

Posted by Michael McKinney at 06:03 AM
Permalink | Comments (0) | This post is about Leading Thoughts