Leading Thoughts for August 10, 2023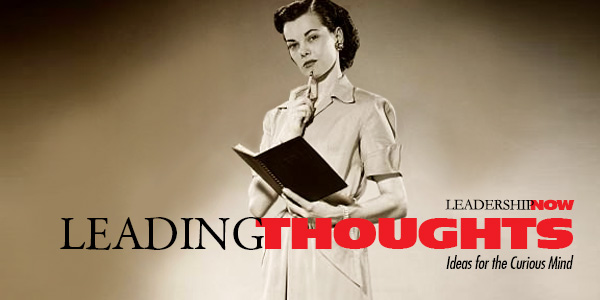 IDEAS shared have the power to expand perspectives, change thinking, and move lives. Here are two ideas for the curious mind to engage with:
I.
John W. Gardner on building meaning into your life:
"Meaning is not something you stumble across, like an answer to a riddle or the prize in a treasure hunt. Meaning is something you build into your life. You build it out of your own past, out of your affections and loyalties, out of the experience of humankind as it is passed on to you, out of your own talent and understanding, out of the things you believe in, out of the things and people you love, out of the values for which you are to sacrifice something. The ingredients are there. You are the only one who can put them together into that unique pattern that will be your life. Let it be a life that has dignity and meaning for you. If it does, then the particular balance of success or failure—as the world measures success or failure—is of less account."
Source: Living, Leading, and the American Dream
II.
Molecular biologist John Medina on work and family:
"There is no such thing as a firewall between personal issues and work productivity. That's because we can't have two brains we can interchange depending on whether we are in our office or in our bedroom. Stress in the workplace affects family life, causing more stress in the family. More stress in the family causes more stress at work, which in turn gets brought home again. It's a deadly, self-feeding spiral, and researchers call it "work-family conflict." So you may have the most wonderful feelings about autonomy at work, and you may have tremendous problem-solving opportunities with your colleagues. But if your home life is a wreck, you can still suffer the negative effects of stress, and so can your employer."
Source: Brain Rules: 12 Principles for Surviving and Thriving at Work, Home, and School
* * *
Look for these ideas every Thursday on the Leading Blog. Find more ideas on the LeadingThoughts index.
* * *


Like us on
Instagram
and
Facebook
for additional leadership and personal development ideas.

Posted by Michael McKinney at 05:00 AM
Permalink | Comments (0) | This post is about Leading Thoughts