Do You See Me?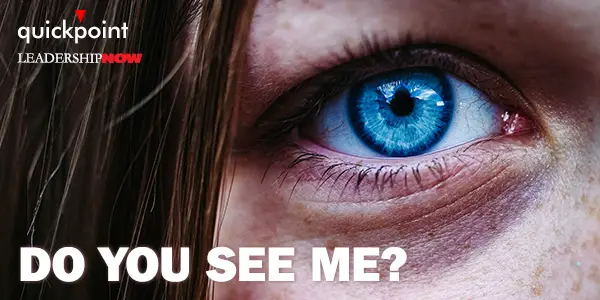 PEOPLE want to feel seen. We all do. We want to know, "Do I matter?" We want to know that the leader is invested in us.
As leaders, it becomes a matter of how we treat others. Do we include them in meaningful action? Do we listen? Do we care about their future?
Leaders who have a developmental focus make others feel seen. Interactions are not seen as transactional. In The Extraordinary Power of Leader Humility, Marilyn Gist states, "Developmental focus implies long-term thinking. You care about the whole person and his or her progress beyond what is merely useful to you." She explains:
The power you can hold can be used to support others'; growth, neglect it, or sabotage it—and they are aware of this. Your role as a leader can and should involve helping them in many ways, such as understanding the values of your specific organizational culture, how to do their job better, how to improve their knowledge of the context in which you operate so they have a better chance to advance, and how to manage others.
Barbie Brewer was hired at IBM in her early twenties to manage the internship program in eleven western states. She writes in Lead and Let Live, "The job at IBM also represented the first time a company invested in me, that is made me feel a valued and valuable member of the team. They flew me out to their headquarters in White Plains, New York, for extensive training, taking a chance on this rookie because they saw something in me that I hadn't yet seen in myself. Leaders, listen up: investing in your young people and giving them solid training is the smartest thing you'll ever do."
In a similar way, when I was 22, I worked for Hughes Helicopters as a Cash Management Analyst. At the time, our multi-million-dollar contracts were paid monthly with mailed checks. The impact on our cash flow and potential overnight investments was huge. They sent me to Warren, Michigan, to work with the Department of Defense to streamline the monthly payment process of our AH-64 Apache Advance Attack Helicopter development. They also sent me to New York to do the same with the governments of Israel and Kenya to streamline their payments for other helicopter programs. Their trust in me expanded my capacity and built my confidence and commitment to Hughes.
It is important for leaders to give others the space to think for themselves and take the initiative in the parameters of the culture. No one knows it all, and we dignify and value others by including and stretching them. To do this is to believe that everyone is valuable enough to contribute to the organization's success. Before we can truly lift others up, we need to examine our beliefs about other people. How we regard ourselves in relation to others will determine how we treat them in the long run.
* * *


Follow us on
Instagram
and
Twitter
for additional leadership and personal development ideas.

Posted by Michael McKinney at 06:44 AM
Permalink | Comments (0) | This post is about quickpoint