Leading Thoughts for July 27, 2023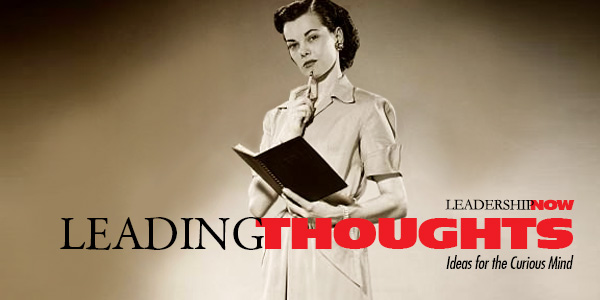 IDEAS shared have the power to expand perspectives, change thinking, and move lives. Here are two ideas for the curious mind to engage with:
I.
Gary Hoover on the need for leaders with a renaissance mind:
"The more specialized we become, the greater our need for leaders who can help bring unity to our efforts. We need people who can think, write, and speak with clarity and conviction, people who can relate to and motivate accountants and salespeople, nurses and electrical engineers, systems analysts and social workers."
Source: Hoover's Vision: Original Thinking for Business Success
II.
Jen Goldman-Wetzler on acknowledging feedback:
"Because humans have an innate need to maintain a positive view of ourselves, we tend to be threatened by, and therefore ignore, reject, or become defensive or even aggressive, in reaction to information that does not confirm this view."
Source: Optimal Outcomes: Free Yourself from Conflict at Work, at Home, and in Life (Blog Post)
* * *
Look for these ideas every Thursday on the Leading Blog. Find more ideas on the LeadingThoughts index.
* * *


Like us on
Instagram
and
Facebook
for additional leadership and personal development ideas.

Posted by Michael McKinney at 05:45 AM
Permalink | Comments (0) | This post is about Leading Thoughts