Leading Thoughts for May 4, 2023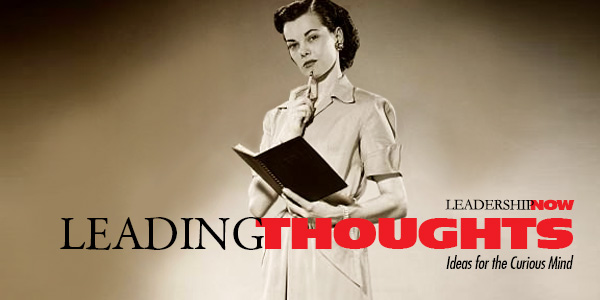 IDEAS shared have the power to expand perspectives, change thinking, and move lives. Here are two ideas for the curious mind to engage with:
I.
Susan Fowler on letting go of the notion that you can and should motivate people:
"Attempting to motivate people is a losing proposition, no matter your resources. Why? Because people are already motivated—but maybe not in the way you want. When you assume people aren't motivated, you tend to fall back to strategies proven ineffective, wrongheaded, or even counter to what you intended. You incentivize, and when that doesn't work, you add more carrots (rewards, incentives, bribes). When you run out of carrots, you may try wielding a thicker stick (threats, fearmongering, and punishment). At some point, you realize your attempts to motivate people are fruitless or, even worse, more harmful than beneficial."
Source: Why Motivating People Doesn't Work...and What Does, Second Edition: More Breakthroughs for Leading, Energizing, and Engaging
II.
Former NASA engineer-project manager and launch director at SpaceX John Muratore on the importance of purpose:
"Tom Holloway, a very famous Program Manager, and head of Flight Directors for a long time, told me something very interesting. He said, 'People ask us what our greatest resource is, and we always say, 'our people.' We have some bright people, but the truth of the matter is we don't have any better people than anybody else has. Our people aren't our greatest resource. Our sense of mission is our greatest resource. When we lose our sense of mission, we are in the most jeopardy. When we have a high sense of mission, we can overcome any obstacle. Where we get in trouble is where we lose the sense of mission. We get wrapped up in politics, we get wrapped up in budget and schedule. We get wrapped up in personal issues. If we want the best for NASA, we've got to keep our mission, focus on what's our mission.' If our activity is not clearly, demonstrably, absolutely, most effectively supporting that mission, we've got to change what we're doing. No matter how painful or how difficult. Because our people sense it, and then we no longer get the best out of them.

"Finding what the mission was and instilling that sense of mission in our people has always been the difficult challenge, and it's probably the most difficult challenge today because I think people are confused beyond all shadow of a doubt right now about our mission. They don't understand what the mission is, and that's the biggest challenge. I think the cool thing about it is that's something we can do something about it. It's something totally within our control. "
Source: NASA Johnson Space Center Oral History Project Interview, May 14, 2008
* * *
Look for these ideas every Thursday on the Leading Blog. Find more ideas on the LeadingThoughts index.
* * *


Like us on
Instagram
and
Facebook
for additional leadership and personal development ideas.

Posted by Michael McKinney at 06:46 AM
Permalink | Comments (0) | This post is about Leading Thoughts