Leading Thoughts for May 11, 2023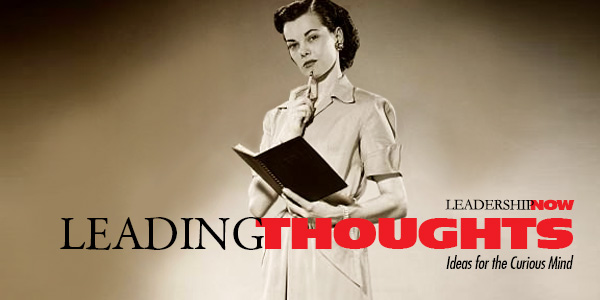 IDEAS shared have the power to expand perspectives, change thinking, and move lives. Here are two ideas for the curious mind to engage with:
I.
Morra Aarons-Mele on labeling:
"Such an error in thinking gets you off the hook when it comes to improving a situation. If you think you're inherently bad (I am a failure), rather than a normal person who makes mistakes or bad decisions (I occasionally fail), you've essentially given up before even trying. The same thing occurs when you label other people. 'You see them as totally bad,' David Burns writes. 'This makes you feel hostile and hopeless about improving things and leaves little room for constructive communication.' Labeling makes it difficult to create a workplace culture with constructive communication and teams committed to improving performance."
Source: The Anxious Achiever: Turn Your Biggest Fears into Your Leadership Superpower
II.
Douglas McGregor on motivation:
"The motivation, the potential for development, the capacity for assuming responsibility, the readiness to direct behavior toward organizational goals are all present in people. Management does not put them there. It is a responsibility of management to make it possible for people to recognize and develop these human characteristics for themselves."
Source: Leadership & Motivation
* * *
Look for these ideas every Thursday on the Leading Blog. Find more ideas on the LeadingThoughts index.
* * *


Follow us on
Instagram
and
Twitter
for additional leadership and personal development ideas.

Posted by Michael McKinney at 09:26 AM
Permalink | Comments (0) | This post is about Leading Thoughts