10 Books to Get You Back to Work – Fall 2022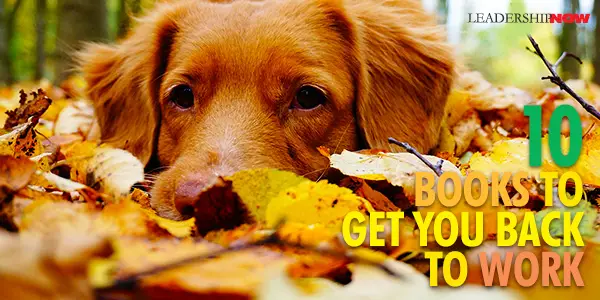 SUMMER is over. It's time to take stock of where you are and prepare now to improve your leadership.
Books have the power to break the inertia in our lives—help us to shift gears—to see in a new way. These titles can help us to recalibrate the structures in our lives to defeat inertia and raise our standards.
Here are ten books to help you get back to work ... better.

  The 6 Types of Working Genius: A Better Way to Understand Your Gifts, Your Frustrations, and Your Team
by Patrick M. Lencioni - (September 2022)

  Why Managers Matter: The Perils of the Bossless Company
by Nicolai J Foss and Peter G Klein - (October 2022)

  Decisions Over Decimals: Striking the Balance between Intuition and Information
by Paul F. Magnone, Christopher J. Frank and Oded Netzer - (October 2022)

  Ideaflow: The Only Business Metric That Matters
by Jeremy Utley and Perry Klebahn - (October 2022)

  A New Kind of Diversity: Making the Different Generations on Your Team a Competitive Advantage
by Tim Elmore - (October 2022)

  Build for Tomorrow: An Action Plan for Embracing Change, Adapting Fast, and Future-Proofing Your Career
by Jason Feifer - (September 2022)

  Getting Along: How to Work with Anyone (Even Difficult People)
by Amy Gallo - (September 2022)

  Leadership Two Words at a Time: Simple Truths for Leading Complicated People
by Bill Treasurer - (September 2022)

  You're the Leader. Now What? Leadership Lessons from Mayo Clinic
by Richard Winters - (September 2022)

  Quit: The Power of Knowing When to Walk Away
by Annie Duke - (October 2022)
* * *


Follow us on
Instagram
and
Twitter
for additional leadership and personal development ideas.

Posted by Michael McKinney at 06:44 AM
Permalink | Comments (0) | This post is about Books