Leading Thoughts for August 25, 2022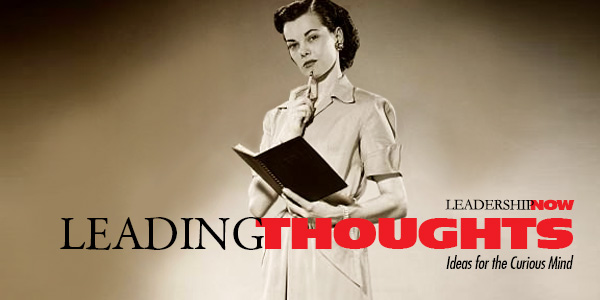 IDEAS shared have the power to expand perspectives, change thinking, and move lives. Here are two ideas for the curious mind to engage with:
I.
Fred Harmon on the value of self-restraint:
"Situational rather than habitual self-restraint is always a strain. Self-mastery lets us relax and focus on results even in tense situations. The world-famous tennis star does not lose her concentration because she is behind in the deciding set. Long practice in controlling her emotions permits her to continue playing at her peak. The practice of self-restraint in making common everyday acts more perfect builds up a similar inner calm on which one can rely in any crisis."
Source: The Executive Odyssey: Secrets for A Career Without Limits
II.
Andrew and Nada Kakabadse and Linda Lee-Davies on staying forever refreshed as a leader::
"Successful leadership is never truly mastered as it is an organic service which must be ever refreshed and refined. The changing nature and demands of the follower and the changing nature and demands of the external environment mean that even once the leader has reached a point of maximum provision for their troops in their current state, they must put some serious planning into the next likely situation they will face. There is no rest, learning to lead never stops and the truly successful, the truly great leader knows that they are leading to learn."
Source: Leading for Success: The Seven Sides to Great Leaders
* * *
Look for these ideas every Thursday on the Leading Blog. Find more ideas on the LeadingThoughts index.
* * *


Like us on
Instagram
and
Facebook
for additional leadership and personal development ideas.

Posted by Michael McKinney at 06:48 AM
Permalink | Comments (0) | This post is about Leading Thoughts