Leading Thoughts for August 18, 2022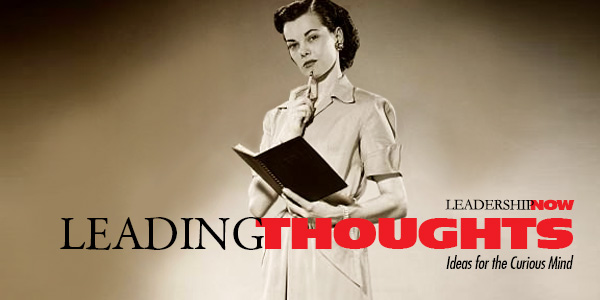 IDEAS shared have the power to expand perspectives, change thinking, and move lives. Here are two ideas for the curious mind to engage with:
I.
Former Blue Shield of California CEO Bruce Bodaken and Robert Fritz on opinion dumps:
"Telling someone your opinion is not the same as exploring reality. Groups that really tell each other the truth are the ones that ask each other questions, seriously seek to understand opinions that are different from their own. They strive to comprehend rather than simply impose their ideas on others, and they engage in a collective dialogue in which people together seek understanding."
Source: The Managerial Moment of Truth: The Essential Step in Helping People Improve Performance
II.
Ram Charan on the roadblocks to moving forward:
"Today transformational change is the norm. Every company has to be able to perceive what will make their best-laid plans obsolete tomorrow and change direction quickly. Dissatisfaction with the status quo and a search for what's next is a universal human endeavor. It does not reside in one person, department, or organizational layer. The flow of ideas cannot be blocked by bureaucratic layers. Do the people at traditional companies welcome change? What happens to the good ideas that emerge? How quickly do they get converted into action?"
Source: Rethinking Competitive Advantage: New Rules for the Digital Age
* * *
Look for these ideas every Thursday on the Leading Blog. Find more ideas on the LeadingThoughts index.
* * *


Like us on
Instagram
and
Facebook
for additional leadership and personal development ideas.

Posted by Michael McKinney at 07:20 AM
Permalink | Comments (0) | This post is about Leading Thoughts