First Look: Leadership Books for August 2022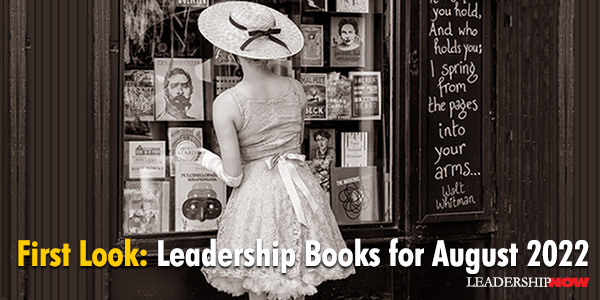 HERE'S A LOOK at some of the best leadership books to be released in August 2022. Be sure to check out the other great titles being offered this month.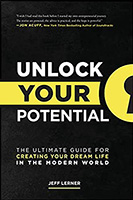 Unlock Your Potential: The Ultimate Guide for Creating Your Dream Life in the Modern World by Jeff Lerner
Is there an alternative to the "system of systems" we live in: school, college (debt), job, different job, more different jobs, 401K/pension, retire (hopefully but probably not)? And if there is an alternative can it really work for everyone regardless of where they currently are in the system? Is there something else out there that works equally well for the 18-year-old deciding whether or not to go to college, the 45-year-old questioning his/her career path, the 65-year-old who is way short of being able to retire, and anyone else feeling dazed and confused in the modern world? In Unlock Your Potential, author and entrepreneur Jeff Lerner answers those questions with a resounding YES! He shows readers how the failings of our education, employment, and retirement systems have opened doors most people didn't even know exist. And, most important, he'll show YOU how to step through those doors—where they exist, how they work, what it takes to go through them, and what's on the other side.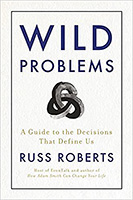 Wild Problems: A Guide to the Decisions That Define Us by Russ Roberts
Algorithms and apps analyze data and tell you how to beat the traffic, what books to buy, what music to listen to, and even who to date—often with great results. But what do you do when you face the big decisions of life—the "wild problems" of who to marry, whether to have children, where to move, how to forge a life well-lived—that can't be solved by measurement or calculation? In Wild Problems, beloved host of EconTalk Russ Roberts offers puzzled rationalists a way to address these wild problems. He suggests spending less time and energy on the path that promises the most happiness, and more time on figuring out who you actually want to be. He draws on the experience of great artists, writers, and scientists of the past who found creative ways to navigate life's biggest questions. And he lays out strategies for reducing the fear and the loss of control that inevitably come when a wild problem requires a leap in the dark.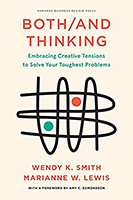 Both/And Thinking: Embracing Creative Tensions to Solve Your Toughest Problems by Wendy Smith and Marianne Lewis
Life is full of paradoxes. How can we each express our individuality while also being a team player? How do we balance work and life? How can we improve diversity while promoting opportunities for all? How can we manage the core business while innovating for the future? For many of us, these competing and interwoven demands are a source of conflict. Since our brains love to make either-or choices, we choose one option over the other. We deal with the uncertainty by asserting certainty. There's a better way. In Both/And Thinking, Wendy Smith and Marianne Lewis help readers cope with multiple, knotted tensions at the same time. Drawing from more than twenty years of pioneering research, they provide tools and lessons for transforming these tensions into opportunities for innovation and personal growth.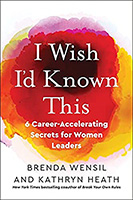 I Wish I'd Known This: 6 Career-Accelerating Secrets for Women Leaders by Brenda Wensil and Kathryn Heath
Professional women are subject to blind spots—obstacles that can minimize career potential, impact, or advancement. Some women end up drifting instead of driving through their careers, going it alone instead of building a posse, and leaving their "reputationality" (that special something we are known for) to chance. Authors and executive coaches Brenda Wensil and Kathryn Heath have spent decades coaching more than 800 women and working with women executives, middle managers, and professionals across industries and age groups. In this book, they outline six challenges women commonly face on their professional journeys and map a way to accelerate through them for higher-impact careers.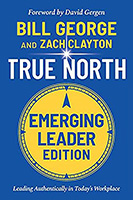 True North: Leading Authentically in Today's Workplace - Emerging Leader Edition by Bill George and Zach Clayton
In True North: Emerging Leader Edition, renowned leadership expert Bill George and Millennial tech entrepreneur Zach Clayton issue the challenge to emerging leaders—from Gen X to Millennials and Gen Z—to lead their organizations authentically through never-ending crises to make this world a better place for everyone. The authors offer practical strategies and techniques to become an authentic leader and reveal how you can navigate your own path to success. They draw on extensive information from a diverse collection of inspirational real-life leaders and combine it with invaluable advice on everything from personal values to crisis leadership and self-awareness. The Emerging Leader Edition is filled with dramatic stories of how successful leaders such as Microsoft's Satya Nadella and Merck's Ken Frazier to PepsiCo's Indra Nooyi and General Motors' Mary Barra, and emerging leaders like OneTrust's Kabir Barday and Rent the Runway's Jenn Hyman, overcame great challenges to build highly successful organizations.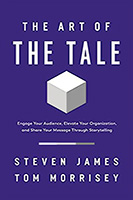 The Art of the Tale: Engage Your Audience, Elevate Your Organization, and Share Your Message Through Storytelling by Steven James and Tom Morrisey
Unleash the power of storytelling to transform your talks, speeches, and presentations—whether your audience is a boardroom of executives, a classroom of students, or an auditorium full of eager listeners. Everyone, regardless of their background and training, can improve their storytelling abilities. But what is a story? How can you tell it in a way that delights and informs your listeners? Take a journey into the keys to great storytelling with two of the country's top experts on story presentation and speech writing. In The Art of the Tale, expert storytellers Steven James and Tom Morrisey team up and tap into their lifetimes of experience to show you how to prepare stellar presentations, tell stories in your own unique way, adapt your material to different groups of listeners, and gain confidence in your ability as a speaker.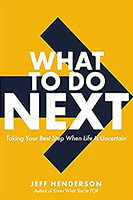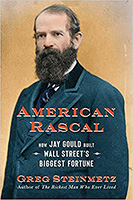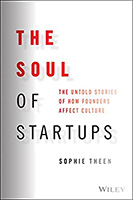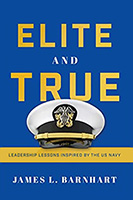 For bulk orders call 1-626-441-2024
* * *
"To add a library to a house is to give that house a soul."
— Cicero
* * *


Follow us on
Instagram
and
Twitter
for additional leadership and personal development ideas.

Posted by Michael McKinney at 07:07 AM
Permalink | Comments (0) | This post is about Books