Leading Thoughts for July 7, 2022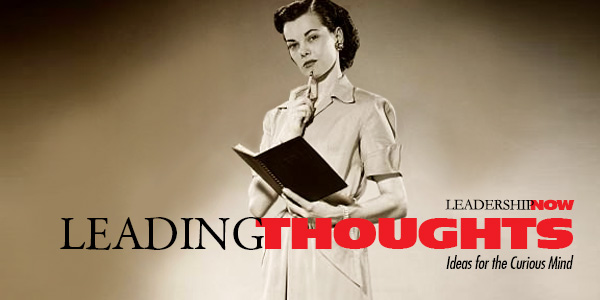 IDEAS shared have the power to expand perspectives, change thinking, and move lives. Here are two ideas for the curious mind to engage with:
I.
Henry Kissinger on the need for leadership:
"Any society, whatever its political system, is perpetually in transit between a past that forms its memory and a vision of the future that inspires its evolution. Along this route, leadership is indispensable: decisions must be made, trust earned, promises kept, a way forward proposed. Within human institutions—states, religions, armies, companies, schools—leadership is needed to help people reach from where they are to where they have never been and, sometimes, can scarcely imagine going. Without leadership, institutions drift, and nations court growing irrelevance and, ultimately, disaster."
Source: Leadership: Six Studies in World Strategy
II.
In a caution to all leaders, Professor Ngaire Woods at the University of Oxford on why Vladimir Putin would turn Russia into a pariah state without achieving any of the goals of his invasion:
"Why would such a powerful leader make such a major blunder? The answer lies in the very nature of power itself. Leaders in positions of tremendous authority often wear blinders that can cause them to make profound mistakes. Power can mislead insofar as it prevents the powerful from taking full stock of the consequences of their actions.

"But these blind spots are not inevitable, nor are democracies doomed to them. The leaders of powerful countries can protect themselves from the pitfalls of power and make sure that short-term expediency doesn't get in the way of the big picture.

"A first line of defense from error lies in the group around a leader. Beyond the cabinet, other institutions need to be fully functioning. Public officials and technocrats, the courts, legislatures, the media, and public opinion each play a role in making sure the leader is not blinded by power."
Source: Foreign Affairs, July/August 2022, "What the Mighty Miss: The Blind Spots of Power"
* * *
Look for these ideas every Thursday on the Leading Blog. Find more ideas on the LeadingThoughts index.
* * *


Like us on
Instagram
and
Facebook
for additional leadership and personal development ideas.

Posted by Michael McKinney at 06:50 AM
Permalink | Comments (0) | This post is about Leading Thoughts