Leading Thoughts for July 21, 2022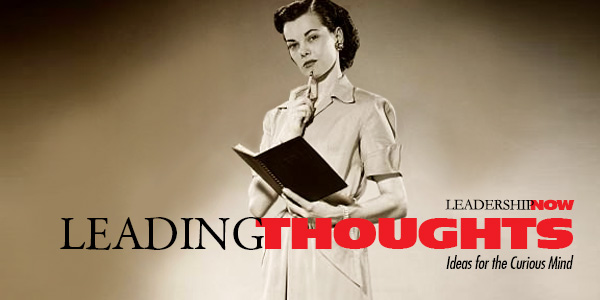 IDEAS shared have the power to expand perspectives, change thinking, and move lives. Here are two ideas for the curious mind to engage with:
I.
Jack Zenger, Joe Folkman, and Scott Edinger on how clarity tells people what not to do:
"Clarity of vision helps all members of the group to be vigilant about not attempting to serve everyone who wants to be a customer, or to embark on any project about which someone becomes enthused, or to create a new product because one prospect or client expresses interest in it. These are hard decisions to make, especially for newly created organizations that are scratching out their existence. But given limited resources, it is especially crucial for those companies to stay focused."
Source: The Inspiring Leader: Unlocking the Secrets of How Extraordinary Leaders Motivate
II.
Musician and speaker David Usher on the opportunities to apply creative principles to all areas of our lives:
"Once you start to look at the world through the lens of creativity, everything looks different. Creative thinking is an integral part of everything we make, but also every relationship we have and every interaction in our lives. It's not just about the world of things. It exists in the connections we make, how we formulate sentences, the way we negotiate with our bosses, and how we choose to look at the world. Once you see the creative process as the underpinning of all these connections and interactions, then the world really is different. Instead of just acting by instinct and routine, repeating the same patterns over and over, you begin to view interactions as possibilities, and you become an active participant. Every moment and interaction becomes an opportunity to apply the principles of creative thinking."
Source: Let the Elephants Run: Unlock Your Creativity and Change Everything
* * *
Look for these ideas every Thursday on the Leading Blog. Find more ideas on the LeadingThoughts index.
* * *


Like us on
Instagram
and
Facebook
for additional leadership and personal development ideas.

Posted by Michael McKinney at 06:32 AM
Permalink | Comments (0) | This post is about Leading Thoughts