Leading Thoughts for July 14, 2022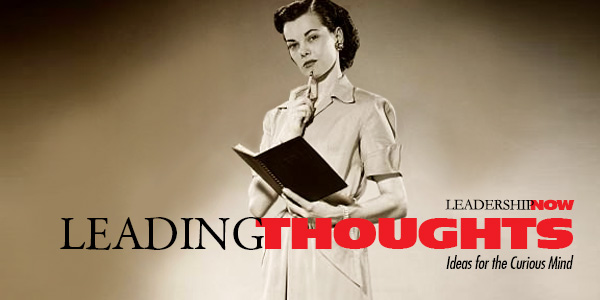 IDEAS shared have the power to expand perspectives, change thinking, and move lives. Here are two ideas for the curious mind to engage with:
I.
Former president of Chick-fil-A, James Collins, on the correlation between authority and responsibility:
"Authority properly used comes packaged with responsibility. Therefore, as I discovered over the years, more authority can be gained in bits and pieces. I gained more authority without having it given to me; all I had to do was figure out what the boss didn't like to do, take responsibility, and do it."
Source: Creative Followership: In the shadow of Greatness
II.
Bill George on why leaders lose their way:
"Leaders whose goal is having power over others, maximizing their wealth, or becoming famous tend to look to other people for fulfillment and acknowledgment of their status.

Before you take on a leadership role, ask yourself, "What motivates me to lead this organization?" If the honest answers are simply power, prestige, and money, you are at risk of being trapped by external gratification as your source of fulfillment. There is nothing wrong with desiring these outward symbols if, and only if they are balanced by a deeper desire to serve something greater than yourself. Extrinsic rewards exert a force that can pull you away from your True North if not counterbalanced by a deeper purpose or calling that gives you a passion to lead."
Source: Discover Your True North
* * *
Look for these ideas every Thursday on the Leading Blog. Find more ideas on the LeadingThoughts index.
* * *


Like us on
Instagram
and
Facebook
for additional leadership and personal development ideas.

Posted by Michael McKinney at 07:52 AM
Permalink | Comments (0) | This post is about Leading Thoughts