Leading Thoughts for June 9, 2022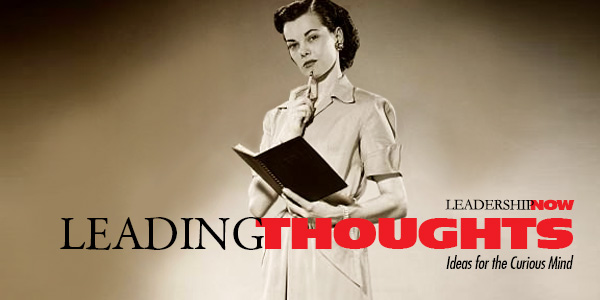 IDEAS shared have the power to expand perspectives, change thinking, and move lives. Here are two ideas for the curious mind to engage with:
I.
INSEAD professor Manfred F. R. Kets de Vries on the importance of being kind:
"Quite often, when people are hurting others, it is because they are hurting themselves. This does not mean that you should try to explain it away, that you should try to justify and rationalize inappropriate behavior. The decision to set boundaries concerning certain behavioral patterns is part of being morally responsible. Still, in trying to understand why these people are doing what they are doing, you could also keep in mind the words of Carl Jung: 'Everything that irritates us about others can lead us to an understanding of ourselves.' It may give you additional insights about what is happening as we all have a tendency to project unwanted parts of ourselves on to the other. It is far too easy to deposit on the other aspects of our shadow side—to use the other as some kind of 'garbage can.'"
Source: Leading Wisely: Becoming a Reflective Leader in Turbulent Times
II.
Darryl Stickel on the growing cynicism surrounding leadership:
"As the world evolves, our expectations of leaders seem to be getting broader and increasingly contradictory. Ultimately, we tend to trust those who have strong abilities and demonstrate excellence in their field. Are leaders supposed to give us decisive direction? Be consensus builders? Inspire us? The answer to all of these is yes, but how are they supposed to do that in environments where those judging leadership qualities appear to agree on so little? Also, our definition of leadership excellence changes with different situations. The challenge we have is that if we don't clearly define excellence for leaders, it is almost impossible for them to strive for it."
Source: Building Trust: Exceptional Leadership in an Uncertain World
* * *
Look for these ideas every Thursday on the Leading Blog. Find more ideas on the LeadingThoughts index.
* * *


Like us on
Instagram
and
Facebook
for additional leadership and personal development ideas.

Posted by Michael McKinney at 06:57 AM
Permalink | Comments (0) | This post is about Leading Thoughts