Leading Thoughts for June 23, 2022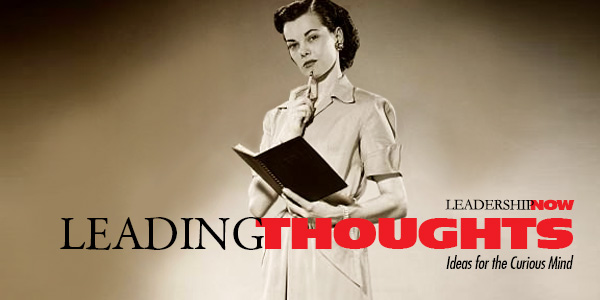 IDEAS shared have the power to expand perspectives, change thinking, and move lives. Here are two ideas for the curious mind to engage with:
I.
Engineer, designer, entrepreneur, and investor, Tony Fadell on becoming a manager:
"Remember that once you become a manager, you'll stop doing the thing that made you successful in the first place. You will no longer be doing the things you do really well—instead you'll be digging into how others do them, helping them improve. Your job will now be communication, communication, communication, recruiting, hiring and firing, setting budgets, reviews, one-on-one meetings (1:1s), meetings with your team and other teams and leadership, representing your team in those meetings, setting goals, and keeping people on track, conflict resolution, helping to find creative solutions to intractable problems, blocking and tackling political BS, mentoring your team, and asking 'how can I help you?' all the time."
Source: Build: An Unorthodox Guide to Making Things Worth Making
II.
Former Nike Chief Marketing Officer Greg Hoffman on passion:
"Passion is a risk-taking emotion because it demands that we reveal so much of ourselves to others. If you've ever found yourself in a conversation with someone about their passion, then you know what I mean. You can feel it; they get carried away. And when they finally stop talking, they can be a little embarrassed. But that's good. Show that to your audience. Imbue your brand, your stories, your spaces with passion unbridled. Start talking about what you love and don't ever stop."
Source: Emotion By Design: Creative Leadership Lessons from a Life at Nike
* * *
Look for these ideas every Thursday on the Leading Blog. Find more ideas on the LeadingThoughts index.
* * *


Like us on
Instagram
and
Facebook
for additional leadership and personal development ideas.

Posted by Michael McKinney at 06:36 AM
Permalink | Comments (0) | This post is about Leading Thoughts