Leading Thoughts for April 7, 2022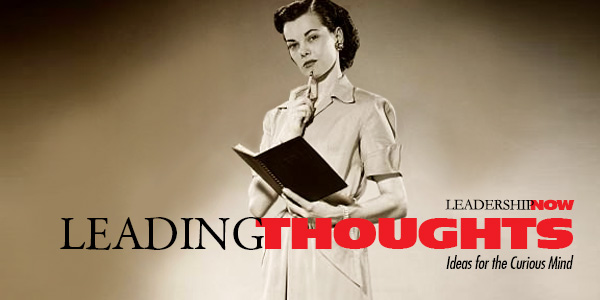 IDEAS shared have the power to expand perspectives, change thinking, and move lives. Here are two ideas for the curious mind to engage with:
I.
Wayde Goodall on why people fall:
"There are reasons people make bad choices, and it doesn't happen overnight. There is an evolution—one thought, decision, or move at a time. They decided to go to the wrong place, ask the wrong question, look at illegal or immoral materials, or have a conversation with someone they knew was compromising. The behavior began somewhere.

"I don't believe this kind of "life-altering" failure just hits like a brick on some particular day. There is a process—sometimes it can be short-lived—sometimes it works on a person for years. Some call it temptation; others call it a hazard of success."
Source: Why Great Men Fall
II.
Ringo Starr on Paul McCartney's work ethic:
"The other side of that is—I was telling someone the other day—if Paul hadn't been in the band, we'd probably have made two albums because we were lazy buggers.

"But Paul's a workaholic. John and I would be sitting in the garden taking in the color green from the tree, and the phone would ring, and we would know, 'Hey lads, you want to come in? Let's go in the studio!'

"So I've told Paul this. He knows this story. We made three times more music than we ever would without him because he's the workaholic, and he loves to get going. Once we got there, we loved it, of course, but, 'Oh no, not again!'"
Source: BBC Interview: Ringo Starr - Talks about Change The World EP, Beatles, Joe Walsh & more
* * *
Look for these ideas every Thursday on the Leading Blog. Find more ideas on the LeadingThoughts index.
* * *


Like us on
Instagram
and
Facebook
for additional leadership and personal development ideas.

Posted by Michael McKinney at 07:15 AM
Permalink | Comments (0) | This post is about Leading Thoughts