Leading Thoughts for April 28, 2022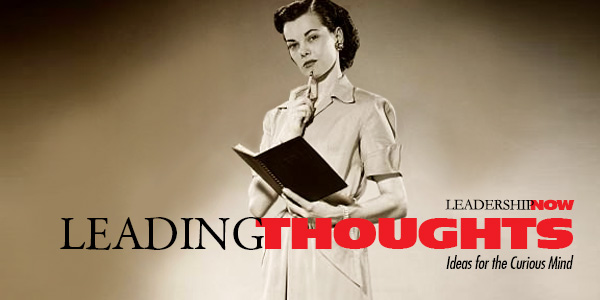 IDEAS shared have the power to expand perspectives, change thinking, and move lives. Here are two ideas for the curious mind to engage with:
I.
David Baldacci's character Aloysius Archer on resilience:
"From now on his life path would be pointed steadily forward, right at the fresh waves coming for him, rather than the choppy ones that had just passed underneath and battered him.

"Hell, they can only hit you once.

"It was all about what was coming up. And whether you could handle it. And even if you couldn't handle it, it was about how you tried to handle it."
Source: Dream Town
II.
Tim Elmore on the difference between adapting and adopting:
"The key to good leadership is catching the wind and capitalizing on it to take you where you need to go. And, perhaps more importantly, to take the students under your care where they need to go. Our job is not merely to adopt what's trending in our culture. Leaders don't just fit in. Our goal is to adapt, not adopt. There's a huge difference. We adapt to the realities of our day, leveraging current methods to say what must be said to our young. Once again, we are timely in our methods, but timeless in our mission. We are timely in our communication style, but timeless in our content. We are timely in our pedagogy, but timeless in our purpose."
Source: Marching Off the Map: Inspire Students to Navigate a Brand New World
* * *
Look for these ideas every Thursday on the Leading Blog. Find more ideas on the LeadingThoughts index.
* * *


Like us on
Instagram
and
Facebook
for additional leadership and personal development ideas.

Posted by Michael McKinney at 07:12 AM
Permalink | Comments (0) | This post is about Leading Thoughts