Leading Thoughts for April 21, 2022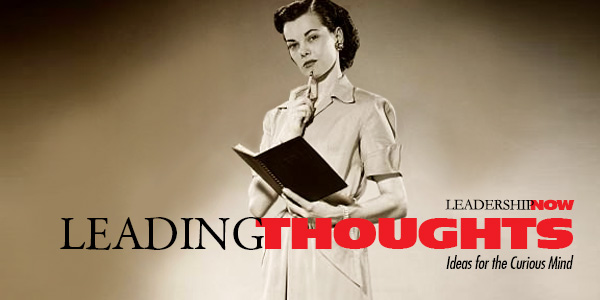 IDEAS shared have the power to expand perspectives, change thinking, and move lives. Here are two ideas for the curious mind to engage with:
I.
Consultant Stan Slap on the purpose of leadership:
"The irreducible essence of leadership is that leaders are people who live their deepest personal values without compromise, and they use those values to make life better for others—this is why people become leaders and why people follow leaders."
Source: Bury My Heart at Conference Room B: The Unbeatable Impact of Truly Committed Managers
II.
Tom Morris on the Rule of Reciprocity:
"One problem with the Rule of Reciprocity is that when you live by it, you allow others to call the shots. Like it or not, we deal with people every day who fall into this pattern of conduct and just reflect back to us whatever we do to them. This is a truth of great importance since it gives us one of the main reasons why unethical business practices are self-destructive. It may be easy to treat people badly one by one, or a few at a time, but over the long run, if you have treated enough other people terribly, and they are living reciprocally, then they are out there as a growing multitude preparing to do the same to you. And together, they'll eventually have the power to bring you down."
Source: Art of Achievement: 7C's of Success In Business and Life
* * *
Look for these ideas every Thursday on the Leading Blog. Find more ideas on the LeadingThoughts index.
* * *


Like us on
Instagram
and
Facebook
for additional leadership and personal development ideas.

Posted by Michael McKinney at 12:40 PM
Permalink | Comments (0) | This post is about Leading Thoughts