First Look: Leadership Books for April 2022
Here's a look at some of the best leadership books to be released in April 2022. Be sure to check out the other great titles being offered this month.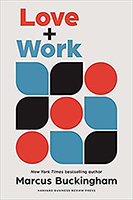 Love + Work: How to Find What You Love, Love What You Do, and Do It for the Rest of Your Life by Marcus Buckingham
You've long been told to "Do what you love." Sounds simple, but the real challenge is how to do this in a world not set up to help you. Most of us actually don't know the real truth of what we love—what engages us and makes us thrive—and our workplaces, jobs, schools, even our parents, are focused instead on making us conform. Sadly, no person or system is dedicated to discovering the crucial intersection between what you love to do and how you contribute it to others. In this eye-opening, uplifting book, Buckingham shows you how to break free from this conformity—how to decode your own loves, turn them into their most powerful expression, and do the same for those you lead and those you love.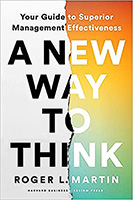 A New Way to Think: Your Guide to Superior Management Effectiveness by Roger L. Martin
Over a stellar career, Roger Martin has advised the CEOs of some of the world's most successful companies. From the beginning, he noted that almost every executive he talked to had a "model"—a framework or way of thinking that guided their strategy and activities. But these models tended to become automatic, so much so that when one didn't work, the typical response was just to apply it again—with greater enthusiasm. Martin took a fresh, critical approach to helping. When company leaders came to him with fundamental questions—How do you decide where to play and how to win? What is the key to shaping and changing corporate culture? How can you design a successful, sustainable innovation process?—his first response was to break the spell of the current model with a memo articulating a new way to think about the problem at hand and a more powerful and effective way to successfully overcome it.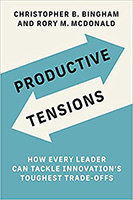 Productive Tensions: How Every Leader Can Tackle Innovation's Toughest Trade-Offs (Management on the Cutting Edge) by Christopher B. Bingham and Rory M. McDonald
Why is leading innovation in today's dynamic business environment so distressingly hit-or-miss? More than 90 percent of high-potential ventures don't reach their projected targets. Surveys show that 80 percent of executives consider innovation crucial to their growth strategy, but only 6 percent are satisfied with their innovation performance. Should leaders aim for Steve Jobs-level genius, shower their projects with resources, or lean in to luck and embrace uncertainty? None of the above, say Christopher Bingham and Rory McDonald. Drawing on cutting-edge research and probing interviews with hundreds of leaders across three continents, in Productive Tensions Bingham and McDonald find that the most effective leaders and successful innovators embrace the tensions that arise from competing aims: efficiency or flexibility? consistency or change? product or purpose? Bingham and McDonald spotlight eight critical tensions that every innovator must master, and they spell out, with dozens of detailed examples of both success and failure, how to navigate them.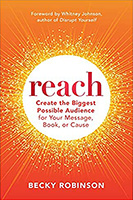 Reach: Create the Biggest Possible Audience for Your Message, Book, or Cause by Becky Robinson
Cut through the noise and create the biggest possible audience for your work. This book offers a proven method for expanding your reach online so you can make a meaningful difference for others. Anyone who makes the bold decision to put their ideas out into the world wants to reach as many people as possible. Unfortunately, too many think it's a question of numbers—the more people you can get in front of, the better. But true reach is about expanding your audience while making a meaningful and enduring difference that has a lasting impact. Reach provides a clear and structured approach to creating a successful online presence that will create the biggest possible impact for any message. Becky Robinson shares a framework to cultivate followers that requires four commitments: value, consistency, endurance, and generosity. When you make these four commitments, you'll deliver memorable content on a regular basis while keeping the long-term view in mind and being committed to helping and sharing with others.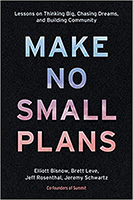 Make No Small Plans: Lessons on Thinking Big, Chasing Dreams, and Building Community by Elliott Bisnow, Brett Leve, Jeff Rosenthal and Jeremy Schwartz
In 2008, with no event production experience and two college degrees between the four of them, Elliott Bisnow, Brett Leve, Jeff Rosenthal, and Jeremy Schwartz became business partners and set out to build a global events company. With passion and tenacity, they began cold calling as many inspiring company founders as they could and tried to convince them to attend their first event. In the beginning, only nineteen people said yes. Since then, they have grown Summit into a global community with events all over the world, hosting luminaries including Jeff Bezos, Richard Branson, Shonda Rhimes, Brené Brown, Kendrick Lamar, and Al Gore. In 2013, the Summit founders acquired Powder Mountain, the largest ski resort in the United States, with a dream of building a mountaintop town of the future. In Make No Small Plans, they reveal the triumphs, mistakes, and cornerstone lessons from their journey, which began during the Great Recession and continues today.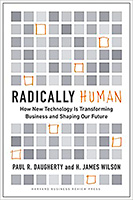 Radically Human: How New Technology Is Transforming Business and Shaping Our Future by Paul Daugherty and H. James Wilson
In their groundbreaking book, Human + Machine, Accenture technology leaders Paul R. Daugherty and H. James Wilson showed how leading organizations use the power of human-machine collaboration to transform their processes and their bottom lines. Now, as AI continues to rapidly impact both life and work, those companies and other pioneers across industries are tipping the balance even more strikingly toward the human side with technology-led strategy that is reshaping the very nature of innovation. In Radically Human, Daugherty and Wilson show this profound shift, fast-forwarded by the pandemic, toward more human—and more humane—technology. Artificial intelligence is becoming less artificial and more intelligent. Instead of data-hungry approaches to AI, innovators are pursuing data-efficient approaches that enable machines to learn as humans do. Instead of replacing workers with machines, they're unleashing human expertise to create human-centered AI. In place of lumbering legacy IT systems, they're building cloud-first IT architectures able to continuously adapt to a world of billions of connected devices. And they're pursuing strategies that will take their place alongside classic, winning business formulas like disruptive innovation.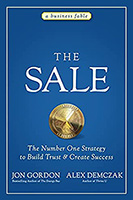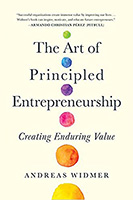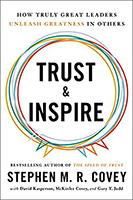 For bulk orders call 1-626-441-2024

Build your leadership library with these specials on over 28 titles. All titles are at least 40% off the list price and are available only in limited quantities.
* * *
"He that loves a book will never want a faithful friend, a wholesome counselor, a cheerful companion, an effectual comforter. By study, by reading, by thinking, one may innocently divert and pleasantly entertain himself, as in all weathers, as in all fortunes."
— Isaac Barrow
* * *


Follow us on
Instagram
and
Twitter
for additional leadership and personal development ideas.

Posted by Michael McKinney at 05:13 AM
Permalink | Comments (0) | This post is about Books