Leading Thoughts for February 10, 2022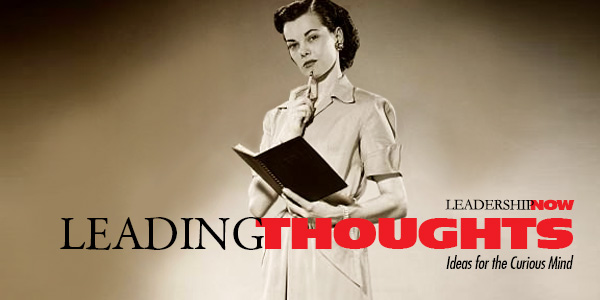 IDEAS shared have the power to expand perspectives, change thinking, and move lives. Here are two ideas for the curious mind to engage with:
I.
Alan Deutschman on the effects of walking the walk:
"When you walk the walk, you reveal the ranking of your values. Martin Luther King Jr's actions showed that nonviolence was his paramount value for the movement he led. Although he sought many important things for black people in America—equality, respect, power, prosperity—he wouldn't sacrifice nonviolence to achieve any of them. Nonviolence was nonnegotiable. It was number one."
Source: Walk the Walk: The #1 Rule for Real Leaders
II.
Thomas Sowell on intellectuals:
"It may be expecting too much to expect most intellectuals to have common sense, when their whole life is based on their being uncommon—that is, saying things that are different from what everyone else is saying. There is only so much genuine originality in anyone. After that, being uncommon means indulging in pointless eccentricities or clever attempts to mock or shock."
Source: Ever Wonder Why? and Other Controversial Essays
* * *
Look for these ideas every Thursday on the Leading Blog. Find more ideas on the LeadingThoughts index.
* * *


Like us on
Instagram
and
Facebook
for additional leadership and personal development ideas.

Posted by Michael McKinney at 09:11 AM
Permalink | Comments (0) | This post is about Leading Thoughts