Leading Thoughts for February 17, 2022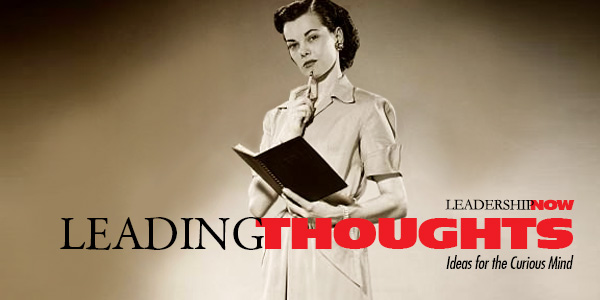 IDEAS shared have the power to expand perspectives, change thinking, and move lives. Here are two ideas for the curious mind to engage with:
I.
Dov Seidman on why organizations can compete through culture:
"Culture can't be copied. The collective experience of any group of people forms a unique narrative, a story that lives and breathes in the halls, offices, and factories of that enterprise. The way people connect, spark against one another to create new ideas or refine old ones, solve problems, and overcome adversity build the synapses that make an organization thrive or die, and no two groups conglomerate these experiences alike. Each is as unique as any family; the number of children can be the same but the ties that bind them will always be unique. Because of this singularity, culture, as an expression of the collective hows of a group or enterprise, gives us our greatest opportunity for differentiation."
Source: How: Why HOW We Do Anything Means Everything
II.
Forrester's Law:
"In complicated situations efforts to improve things often tend to make them worse, sometimes much worse, on occasion calamitous."
Source: MIT Sloan Professor Emeritus Jay W. Forrester quoted in The Conservative Intellectual Movement in America Since 1945 by George H. Nash
* * *
Look for these ideas every Thursday on the Leading Blog. Find more ideas on the LeadingThoughts index.
* * *


Like us on
Instagram
and
Facebook
for additional leadership and personal development ideas.

Posted by Michael McKinney at 09:20 AM
Permalink | Comments (0) | This post is about Leading Thoughts