Uncommon Leadership: 11 Ways the Greatest Leaders Lead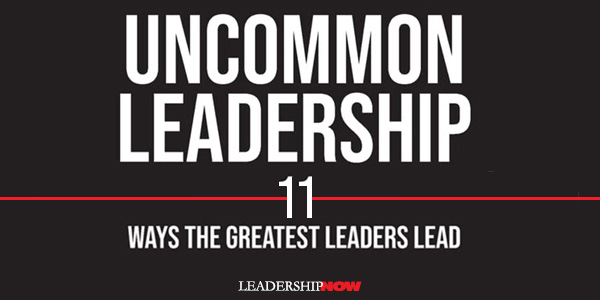 EVERYONE can lead in a positive way, but not everyone will do what it takes to make that happen. Some are content to lead unintentionally for better or worse—leading unintentional lives setting a pattern of aimlessness for others to follow.
But there is the vast majority of leaders who intentionally lead in a way that has a positive impact. Then there are those that do uncommon things that make us all step back and ask how they did that. Performance coach Ben Newman has written about 11 ways the greatest leaders lead in Uncommon Leadership.
Newman looks at the leadership of eleven leaders and asks what drives them to places of uncommon leadership. There is no single answer. It has been the choices they made. Mindsets they adapted. Each leader's path was unique but similar. The story of their individual leadership journeys can serve to inspire us to step into uncommon leadership.
From coach Nick Saban we learn that every choice counts. "The way you do one thing is the way you do everything. No matter what you do, you must approach every task the same way and with the same degree of high performance, self-accountability, and mental toughness, every time."
From leadership expert Jon Gordon, Newman has learned that "We are continually growing and changing. Every time I feel like I've grown into the person I should be, Jon is there as a reminder that I must continue to grow and change to become a better version of myself and what I am capable of achieving."
From NFL underdog Will Compton we see how critical the right mindset can be. "When you take responsibility for your thoughts, you put yourself in charge of one of the few things you can control. In this way, you can develop your own mental standard for the challenges you face. It's not easy, but when you learn to set aside your feelings, you toss aside useless baggage, enabling you to focus on the thoughts and actions that matter." To come from behind, "You must set a standard for yourself and be unshakeable and unwavering as you work toward your goals."
Coach Chris Klieman shows us that our edge is in the details—what you chose to focus on. "When your willpower is unbreakable, it allows you to overcome any fears of failure. Faith and inspiration provide focus and clarity that will lead you to the goals in your life."
Basketball skills trainer Drew Hanlan reminds us that "success comes from the work you put in during the unseen hours." Hanlan believes in reverse-engineering the skills you need. "Breaking things down into their smallest pieces often reveals solutions that you can't always see when trying to see the whole of the situation. When you can listen, analyze, change course, and solve problems, you will become a leader. Problem solvers are leaders, and those who find creative ways to achieve desired outcomes are uncommon leaders."
Desire is the foundation of passion; passion is the foundation of mental toughness. Mental toughness is the foundation for developing a standard for yourself, and the right standard, intelligently and diligently applied, creates success.
From entrepreneur Andy Frisella we can see that leadership is not for everybody because some aren't willing to put in the work, set their ego aside, and lead. "You can't lead others until you first learn to lead yourself. Learning from your setbacks is only part of the key to success. Making changes is the other."
To succeed, we have internal voices that prop us up, get us through tough times, and feed our brains with messages that allow us to create mental toughness. But the downside of this is that sometimes, our ego gets in the way. We confuse our ego with reality, or the two openly compete for our attention, and that creates conflict. That happens to a lot of people. It's frustrating when you think you're doing everything you should to be successful, and you're still not.

We often don't realize that the missing piece is to be honest with ourselves: to recognize when something is not working.
From mixed martial arts fighter Tyron Woodley we know that "you don't need a lot of people to support you, as long as you have the right people in your life to support you."
High jump champion Chaunté Lowe we learn about the power of embracing adversity—in her case, cancer. "You don't have a choice about the hand you've been dealt. But you do have a choice as to how you respond, how you choose to fight your situation. It's easy to become depressed and fight within yourself: to battle between wanting to give up or not." Newman adds, "to fight your best fight is to win—that is the real victory."
The best NFL wide receiver Jerry Rice asks, "How can somebody not give 100 percent when it's 100 percent their choice?" Newman says, "Jerry credits his success in part to his All the Time Mindset, which means you do things only one way all the time. Your approach to off-season training, in-season practices, and game-day prep are no different than when you step on the field for a game on Sunday. Performing at 100 percent becomes second nature because that's all you do. In fact, it's all you know how to do, every moment of every day, all the time."
The extreme life of David Goggins teaches us that the "only way to gain mental toughness is to do things you're not happy doing. You must be in a constant state of positive growth and change. You are either getting better or getting worse, but you are never staying the same."
Finally, Newman looks to his mother, Janet Newman, who died just before his eighth birthday. She was a teacher who never stopped teaching until the very end. She taught him that "our life's circumstances are much less significant than our responses to them."
You only have a small say in how long you'll live. But you have an almost unlimited ability to choose how you will live while you are alive. You can choose passivity, or you can choose to be an active participant in your own life. You can choose to be a victim, or you can choose to fight and do whatever you can to overcome obstacles in your life.
Her life demonstrated that we need to be mindful of everyone in our life.
Never underestimate your ability to be a good leader, even if it only means being a good dad, mom, sibling, grandparent, or friend. You may only impact or lead a single person. However, we are all connected on this planet, and the seed you plant could travel far, with untold impacts to bloom and affect others.
* * *


Follow us on
Instagram
and
Twitter
for additional leadership and personal development ideas.
* * *


Posted by Michael McKinney at 09:01 AM
Permalink | Comments (0) | This post is about Personal Development