Leading Thoughts for January 27, 2022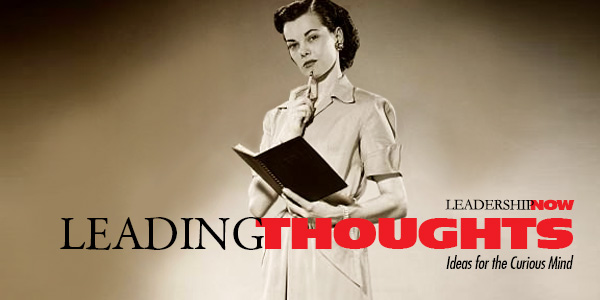 IDEAS shared have the power to expand perspectives, change thinking, and move lives. Here are two ideas for the curious mind to engage with:
I.
Amelia Dunlop on grace:
"Grace is what we offer to each other when we show kindness to the parts of our humanity that are in need of elevating. It is too easy to point to the failings of my colleagues around me and not extend grace. I find myself saying things like, 'With grace, he might not have known that this was important.' Or 'If we extend grace, she might have a lot going on right now and simply missed the email.' It is because we are human, not perfect, that we need to learn to extend grace to each other, something that I find very much needed every day in the workplace."
Source: Elevating the Human Experience: Three Paths to Love and Worth at Work
II.
Sandra Sucher and Shalene Gupta on regaining trust:
"We tend to believe that trust, once broken, cannot be regained, when actually the truth is somewhat more complex. Trust, once broken, cannot easily be regained. We fall into this fallacy for two reasons. First, trust is so hard to regain that so few do it, making us think that broken trust is truly lost forever. Second, because trust is so hard to regain, it makes more sense to focus on protecting your reputation and avoiding losing trust in the first place. However, consider Boeing, Volkswagen, Wells Fargo, and Uber. All of these companies are battered but still in business. A trust betrayal does not necessarily mean game over. Still, be warned, trust regained looks different than trust that was never betrayed."
Source: The Power of Trust: How Companies Build It, Lose It, Regain It
* * *
Look for these ideas every Thursday on the Leading Blog. Find more ideas on the LeadingThoughts index.
* * *


Like us on
Instagram
and
Facebook
for additional leadership and personal development ideas.

Posted by Michael McKinney at 01:09 PM
Permalink | Comments (0) | This post is about Leading Thoughts