Leading Thoughts for January 13, 2022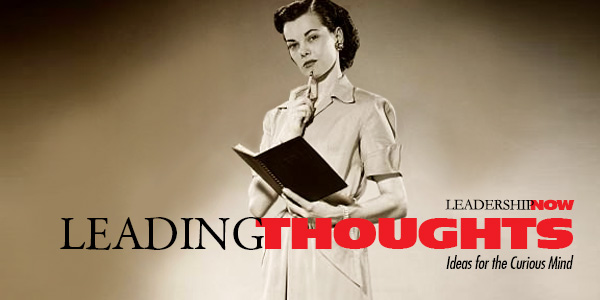 IDEAS shared have the power to expand perspectives, change thinking, and move lives. Here are two ideas for the curious mind to engage with:
I.
Consultant Larry Miller on the need for leaders to respond creatively to challenges:
"Both cultures and companies continue to progress so long as leaders recognize the challenges and respond creatively. Each successful response leads not to a condition of ease, but to a higher level of challenge, requiring yet another new and creative response. Creative response is the essential function of leaders. The moment leaders relax and rely on yesterday's successful response in the presence of today's challenge, the decline begins. It is natural for leaders in every stage to rely on responses they find most comfortable and to fail when they do not adopt innovative responses. Both the history of civilizations and of corporations demonstrate this relationship between the behavior of leaders and the cycle of growth and decline."
Source: Barbarians to Bureaucrats: Corporate Life Cycle Strategies: Corporate Life Cycle Strategies
II.
Graham Duncan on the victim mentality:
"One great portfolio manager I know told the story of being driven somewhere by an analyst on a rainy night when a truck swerved and almost ran them off the road. "Why is stuff like this always happening to me?" the analyst instinctively responded. But to the portfolio manager, that response reflected a terrible mindset, whether on the road or in the market: a sense that the world is acting on you as opposed to your acting on the world. It is a mindset that is hard to change. But from what I've seen, great investors don't have it. Instead, they've come to understand which factors in the market they can control and which factors they cannot."
Source: The Playing Field blog post
* * *
Look for these ideas every Thursday on the Leading Blog. Find more ideas on the LeadingThoughts index.
* * *


Like us on
Instagram
and
Facebook
for additional leadership and personal development ideas.

Posted by Michael McKinney at 10:54 AM
Permalink | Comments (0) | This post is about Leading Thoughts