Leading Thoughts for January 6, 2022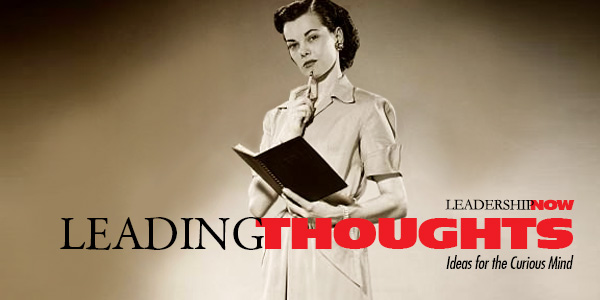 IDEAS shared have the power to expand perspectives, change thinking, and move lives. Here are two ideas for the curious mind to engage with:
I.
Rasmus Hougaard and Jacqueline Carter on learning to be compassionate leaders:
"The people who pose the biggest challenge often provide the greatest opportunity for our own development and growth. In this way, people provide the critical fuel for us to become compassionate leaders. Nearly every situation is an opportunity to learn. And the more we learn, the better ewe become. When we experience challenges from the people we work with, we have a chance: w can either resist them or we can see the situation as an opportunity to practice our leadership and our compassion."
Source: Compassionate Leadership: How to Do Hard Things in a Human Way
II.
Professor John Kotter on the need for more leadership from more people:
"Although not everyone who seriously studies great figures would agree, we think it is very clear that if there was no Churchill, Martin Luther King, Jr., or Thomas Watson, the world would have evolved differently in some important ways. So the point is not that such people as inconsequential media figureheads, or had they not existed someone else would have played the same role, and just as brilliantly. Quite the contrary. The point is that we cannot depend upon mass producing heroic figures to solve humanity's problems. There must be another way.

And there is. The solution is for many, many more people, regardless of where they sit in an organization or community, to step up and lead."
Source: Change How Organizations Achieve Hard-to-Imagine Results in Uncertain and Volatile Times
* * *
Look for these ideas every Thursday on the Leading Blog. Find more ideas on the LeadingThoughts index.
* * *


Like us on
Instagram
and
Facebook
for additional leadership and personal development ideas.

Posted by Michael McKinney at 10:51 AM
Permalink | Comments (0) | This post is about Leading Thoughts