Leading Thoughts for October 7, 2021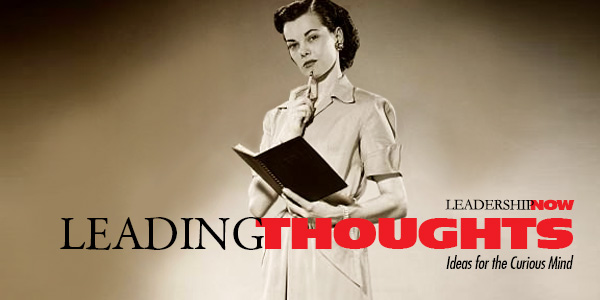 IDEAS shared have the power to expand perspectives, change thinking, and move lives. Here are two ideas for the curious mind to engage with:
I.
Elon Musk with a counterpoint to the idea to just trust the process:
"I don't believe in process. In fact, when I interview a potential employee and he or she says that 'it's all about the process,' I see that as a bad sign. The problem is that at a lot of big companies, process becomes a substitute for thinking. You're encouraged to behave like a little gear in a complex machine. Frankly, it allows you to keep people who aren't that smart, who aren't that creative."
Source: "Elon Musk's Mission to Mars," Wired, October 21, 2012
II.
Canadian actor and director Antoni Cimolino on the value of the arts:
"One music teacher in a school does more good for our children than a truckload of computers — mere information, and the tools for processing it, are useless to people whom no one has taught to dream; bandwidth isn't as important as mind width, and mind depth; training technicians will advance us not one whit unless we also nurture the imagination of potential visionaries."
Source: Speech, Artistic Institutions: The Wellsprings of Our Spiritual, Emotional, and Intellectual Well-Being
* * *
Look for these ideas every Thursday on the Leading Blog. Find more ideas on the LeadingThoughts index.
* * *


Like us on
Instagram
and
Facebook
for additional leadership and personal development ideas.

Posted by Michael McKinney at 03:50 PM
Permalink | Comments (0) | This post is about Leading Thoughts