Leading Thoughts for September 9, 2021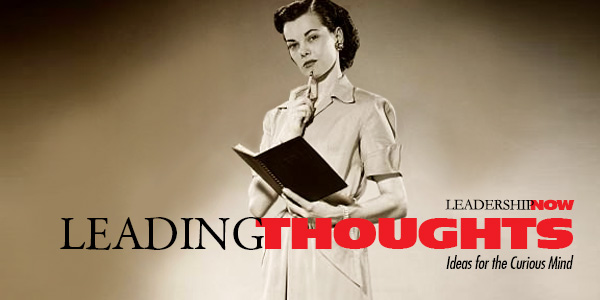 IDEAS shared have the power to expand perspectives, change thinking, and move lives. Here are two ideas for the curious mind to engage with:
I.
Former vice president and corporate controller at The Boeing Company, Laurette Koellner, on our responsibility to self-empower and self-deploy:
"No one asked Amelia Earhart or Charles Lindbergh to do a solo flight across the Atlantic. No one asked Bill Boeing to build an airplane. They did these things because they wanted to. They did them because they wanted to open new frontiers. Similarly, we, as individuals, must decide how we are going to expand frontiers for ourselves — and for others who are working with us or for us. To do that, we must be prepared to do battle from time to time with the internal bureaucracy in our organizations. But even more than that, we have to be prepared to fight against our own inertia — or what one poet described as 'mind-forges manacles.'"
Source: Speech, Managing Your Career: The Ultimate Solo Flight
II.
Author and writing teacher Julia Cameron on what it takes to improve:
"There will be many times when we won't look good—to ourselves or anyone else. We need to stop demanding that we do. It is impossible to get better and look good at the same time.

"Give yourself permission to be a beginner. By being willing to be a bad artist, you have a chance to be an artist, and perhaps, over time, a very good one."
Source: The Artist's Way
* * *
Look for these ideas every Thursday on the Leading Blog. Find more ideas on the LeadingThoughts index.
* * *


Like us on
Instagram
and
Facebook
for additional leadership and personal development ideas.

Posted by Michael McKinney at 07:26 AM
Permalink | Comments (0) | This post is about Leading Thoughts