Leading Thoughts for August 5, 2021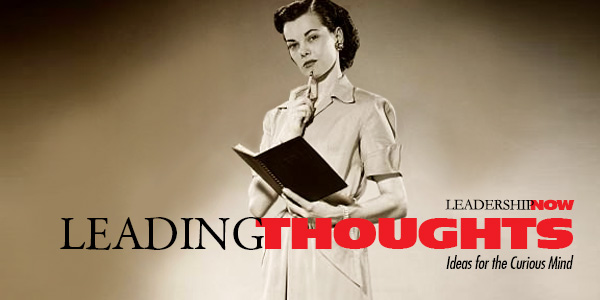 IDEAS shared have the power to expand perspectives, change thinking, and move lives. Here are two ideas for the curious mind to engage with:
I.
John Maxwell on how adversity introduces us to ourselves:
"Adversity always gets our attention. We can't ignore it. It causes us to stop and look at our situation. And at ourselves if we have the courage. Adversity creates an opportunity for self-discovery. As the great Egyptian leader Anwar el-Sadat said, 'Great suffering builds up a human being and puts him within the reach of self-knowledge.'"
Source: Leading in Tough Times
II.
Retired General Ronald Yates on the American tradition of total quality leadership:
"During the American Revolution, an officer in civilian clothes rose past a group of soldiers busy repairing a small fortification of rocks and tree limbs. Their commander was shouting instructions but making no attempt to help them. When the passer-by asked the commander why he wasn't helping, the man in charge replied with great dignity, 'Sir, I am a corporal!'

"The stranger apologized, dismounted, and proceeded to help the exhausted soldiers himself. When the job was completed, he turned to the corporal and said,

"'Mr. Corporal, next time you have a job like this and not enough men to do it, go to your commander in chief, and I will come and help you again.'

"Too late, the corporal recognized General George Washington. Quality leadership also recognizes one person alone doesn't make it happen – whether you're the boss or out on the shop floor, you're part of a team."
Source: Total Quality Leadership: An American Tradition, Speech delivered November 1, 1994
* * *
Look for these ideas every Thursday on the Leading Blog. Find more ideas on the LeadingThoughts index.
* * *


Like us on
Instagram
and
Facebook
for additional leadership and personal development ideas.

Posted by Michael McKinney at 07:16 AM
Permalink | Comments (0) | This post is about Leading Thoughts