What Your Organization Really Needs from You: Influence and Impact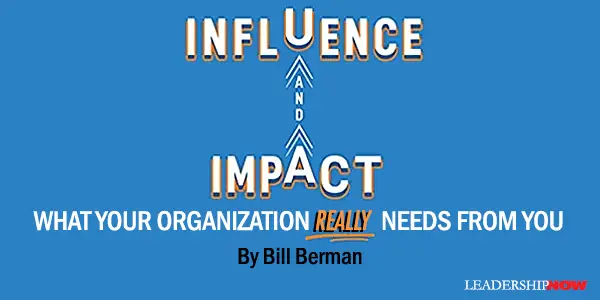 LEADERS in today's multinational, matrixed, diverse business world have impact through their ability to influence others. In many organizations, authority-based leadership is waning. Success is all about getting others to care about what you care about. The most effective leaders get their teams, their colleagues, and their suppliers to emphasize their priorities. People listen to what you have to say, and follow you, because they want to, not because they have to. When you have that kind of influence with others, the results begin to speak for themselves. In other words, you have impact on the organization.
Why do some leaders "have a seat at the table," and some feel they are struggling to bring others along? Why are some leaders able to influence in one role, but in another role, discover they aren't having the influence they should? The solution is far from magical. For a large majority of leaders, the struggle to have influence and impact comes from things that you can manage and change. If you approach this situation with a growth mindset, you can build or rebuild that influence. In my new book, Influence and Impact: Discover and Excel at What Your Organization Needs From You The Most, written with George Bradt, we provide the tools every leader needs to grow and develop into the leader that others want to follow.
Through my work with business leaders from CEOs to first-line managers, it has become clear that many people with strong technical prowess and powerful business acumen have unintentionally misunderstood an unwritten but essential aspect of their job. When organizations send clients to me for executive coaching, the work usually focuses on one of two things: How the leader thinks about their job, and how they do that job. Put simply, many leaders are not focused on two essential elements of their job.
First, they are not completely focused on the priorities their organization needs from them. They may be doing the job mostly right, or they may be doing what their job description says. But many times, they are focused partly on what they know, what they wish, or what is comfortable, rather than what is needed.
Tommy had risen to become the leader of a 1500-person business unit spanning four continents. He knew the economics of his business and was able convert his skills into practical technology and process solutions. But like many people, his strengths were also his weaknesses. Because Tommy understood the business in such depth, he often knew the answers well before his team did. As a result, he would identify the solution, inform others, and tell them to execute. Tommy felt overworked and underappreciated. His team felt undervalued, under-challenged, and demoralized. Through the coaching work we did, Tommy realized that he was avoiding the more complex and ambiguous aspects of his work where he had less confidence. As a result, Tommy was able to step back and let his team sort out operational problems without his involvement. Tommy's boss saw that Tommy had freed up time and refocused his energies on what the manager needed from him, and told him, "I've been waiting for you to figure this out."
Second, leaders are doing the right things, but in a way that is not aligned with the style, attitudes and mores of their organization; in other words, the organizational culture. For example, they are decisive when they need to be collaborative. They are direct and blunt when they need to be tactful and patient. Or, they push for autonomy when their manager wants engagement. These are just a few examples.
Fortunately, leaders can enhance their influence and impact by identifying and consistently focusing on the mission critical parts of their role and the essential aspects of the culture. The steps to building your influence are clear:
Start by learning about yourself – your strengths, your values, your preferences.
Learn about what your job really is - by having conversations with stakeholders (including your manager) and observing yourself, your manager, and your colleagues carefully.
Understand the culture of your organization – by listening, observing, and reflecting on your actions and attitudes relative to others.
Write out your working job description – the one that others need from you, not what you think it is.
Decide if you want to commit to that job. If you do, then make a plan to adjust to what is really expected. If you do not, consider what alternatives there may be, in your organization or somewhere else.
Every leader can identify the parts of their role that meet the needs of their manager, their colleagues, and their business. Every leader can understand the culture, and decide if it is a fit for them, or if they can change a few aspects of their style to adapt. All it takes is a willingness to confront the reality of the situation and grow as a leader.
This is the key to professional success in organizations: Doing the job that is needed by the organization, in the way that is needed by the culture, consistently and reliably. Developing a deliberate focus, delivered in a manner that is aligned with the style and manner of your organization, invariably results in increased influence with others, a willingness to follow, and a larger impact on the organization and its mission.
* * *

This post was adapted from
Influence and Impact: Discover and Excel at What Your Organization Needs From You The Most
by Bill Berman and George Bradt.
Bill Berman
is an executive coach with experience as a psychologist, senior line manager, and organizational consultant. Since founding Berman Leadership Development in 2005, he has been a trusted advisor to general managers and C-suite executives across multiple industries. Bill began his career as a licensed psychologist and academic, started a software company, and has written and spoken extensively on a range of topics in psychology, coaching and behavior change. For more information, please visit https://bermanleadership.com and follow the author on Twitter.
* * *


Like us on
Instagram
and
Facebook
for additional leadership and personal development ideas.
* * *


Posted by Michael McKinney at 07:45 AM
Permalink | Comments (0) | This post is about Leadership Development