Leading Thoughts for June 17, 2021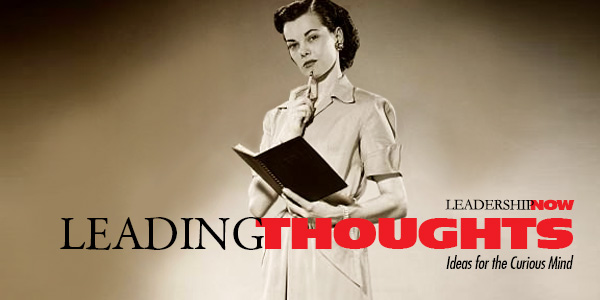 IDEAS shared have the power to expand perspectives, change thinking, and move lives. Here are two ideas for the curious mind to engage with:
I.
Leadership coach Ruchira Chaudhary on the difference between mentors and coaches:
"Mentors provide direction to their mentees, giving them the opportunity to become more like them. Coaches, though, don't offer directions or even answers. A good coach instead helps the coachee come up with their own answers. As a coach and leader, you—unlike the mentor—do not provide advice from a distance. You are right there where all the action is taking place. You are observing, providing feedback, sometimes nuggets of wisdom and encouragement, sometimes nudging, sometimes directing, and often times proactively seeking them out to help them be a better version of themselves. You (ideally) lead these interactions—not your coachee. In essence, a mentor guides your (career of life) journey, whereas a coach guides your (current) practice."
Source: Coaching: The Secret Code to Uncommon Leadership
II.
Evolutionary biologist Rebecca Heiss on how our inter-gender instincts can influence our perceptions of leadership roles:
"As soon as we are reminded that women, even powerful, responsible, qualified leaders, are mothers, our sex instinct fires up ancient associations that hold women back. But the flip side of gender bias must also be given due consideration.

"It's not about which gender is 'better' in leadership roles. The reality is we need the traditional skill sets of both males and females. Leadership is a genderless domain, but recognizing how our instincts have shaped both men and women to feel threatened by a woman who is 'taking our status' or by a stay-at-home dad who 'isn't a valuable resource contributor' is essential in intervening when our instincts might lead us down a dangerous path.

"Our sex instinct has deeply sculpted our perceptions of gender in ways that logically no longer apply today."
Source: Instinct: Rewire Your Brain with Science-Backed Solutions to Increase Productivity and Achieve Success
* * *
Look for these ideas every Thursday on the Leading Blog. Find more ideas on the LeadingThoughts index.
* * *


Like us on
Instagram
and
Facebook
for additional leadership and personal development ideas.

Posted by Michael McKinney at 08:09 AM
Permalink | Comments (0) | This post is about Leading Thoughts