Leading Thoughts for June 10, 2021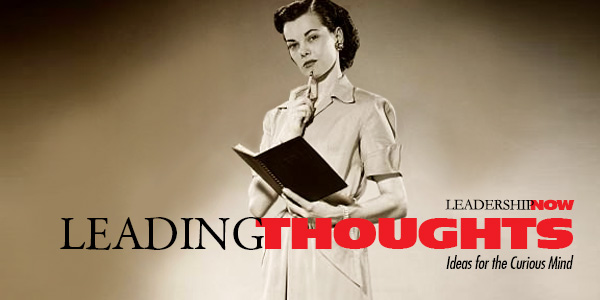 IDEAS shared have the power to expand perspectives, change thinking, and move lives. Here are two ideas for the curious mind to engage with:
I.
D. Michael Lindsay observed that the best leaders have shown excellent management of the transitional events in their lives:
"The challenge with life is that we have to live it moving forward, but we only really understand it looking back. Every day offers the promise of preparing us to best respond to the next hinge moment of our lives.

Change moves us out of our previous settled time; transition moves us into the next one. While changes are significant to our lives, it is the success of our transitions that will determine our satisfaction and effectiveness in the days and years to come.

The best way to prepare for an unseen transition is to keep in mind how close one could be and to develop the virtues—such as humility, courage, and self-control—we need to make good choices when the hinge moment presents itself."
Source: Hinge Moments: Making the Most of Life's Transitions
II.
Bruce Feiler on our personal narratives:
"Each one of us carries around an unspoken set of assumptions that dictate how we expect our lives to unfold. These expectations come from all corners and influence us more than we admit. We've been led to believe that our lives will always ascend, for example, and are shocked to discover they oscillate instead. Our society tells us we should be basking in progress, but our experience tells us we are beset by slip-ups. Might this gap help explain the anxiety so many of us feel?"
Source: Life Is in the Transitions: Mastering Change in a Nonlinear Age
* * *
Look for these ideas every Thursday on the Leading Blog. Find more ideas on the LeadingThoughts index.
* * *


Like us on
Instagram
and
Facebook
for additional leadership and personal development ideas.

Posted by Michael McKinney at 03:19 PM
Permalink | Comments (0) | This post is about Leading Thoughts