Leading Thoughts for May 20, 2021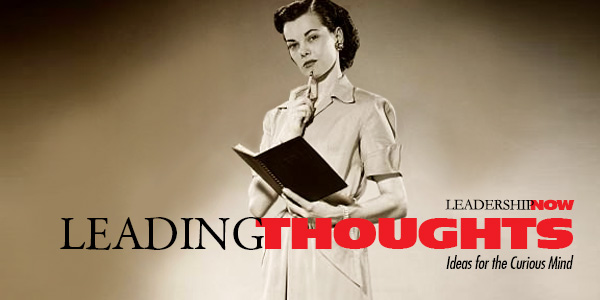 IDEAS shared have the power to expand perspectives, change thinking, and move lives. Here are two ideas for the curious mind to engage with:
I.
Robert Heinlein on dying cultures:
"Sick cultures show a complex of symptoms such as you have named…but a dying culture invariably exhibits personal rudeness. Bad manners. Lack of consideration for others in minor matters. A loss of politeness, of gentle manners, is more significant than is a riot."
Source: Friday (1982)
II.
Ben Horowitz on what you get is based on who you are:
"Trying to screen for 'good people' or screen out 'bad people' doesn't necessarily get you a high-integrity culture. A person may come in with high integrity but have to compromise it to succeed in your environment. People become the culture they live in and do what the have to do to survive and thrive."
Source: What You Do Is Who You Are: How to Create Your Business Culture
* * *
Look for these ideas every Thursday on the Leading Blog. Find more ideas on the LeadingThoughts index.
* * *


Like us on
Instagram
and
Facebook
for additional leadership and personal development ideas.

Posted by Michael McKinney at 08:34 AM
Permalink | Comments (0) | This post is about Leading Thoughts