Leading Thoughts for May 13, 2021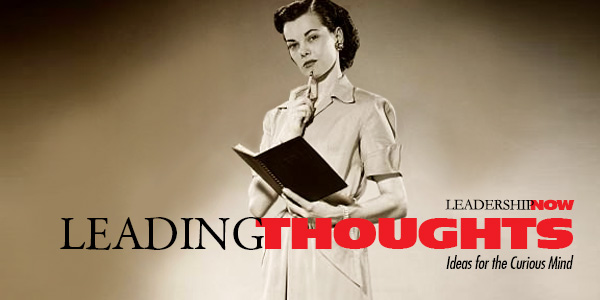 IDEAS shared have the power to expand perspectives, change thinking, and move lives. Here are two ideas for the curious mind to engage with:
I.
Joann Lublin on how parenting can make parents better leaders and bosses:
"A high proportion of younger mothers and fathers believe that parenthood makes them better leaders, another study revealed. About 55% of parents under 35 "strongly agree" that's true—compared with 28% of ones over 45, a 2019 survey of 1,003 individuals with and without children stated.

Motherhood transforms many women into better leaders. Power Moms from all generations reported to me that they had become better bosses by raising families. Tapping skills honed as time-starved parents, they set priorities well, multitasked, and delegated effectively. They also managed with empathy. It's a quality greatly valued by companies because they must operate in an increasingly complex and diverse global economy."
Source: Power Moms: How Executive Mothers Navigate Work and Life
II.
Malcolm Gladwell on the birth of revolutions:
"Revolutions are invariably group activities. Rarely does someone start a revolution alone. Revolutions are birthed in conversation, argument, validation, proximity, and the look in your listener's eye that tells you you're on to something."
Source: The Bomber Mafia: A Dream, a Temptation, and the Longest Night of the Second World War
* * *
Look for these ideas every Thursday on the Leading Blog. Find more ideas on the LeadingThoughts index.
* * *


Like us on
Instagram
and
Facebook
for additional leadership and personal development ideas.

Posted by Michael McKinney at 08:38 AM
Permalink | Comments (0) | This post is about Leading Thoughts