Leading Thoughts for April 8, 2021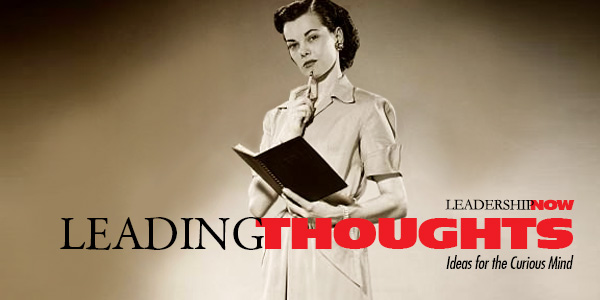 IDEAS shared have the power to expand perspectives, change thinking, and move lives. Here are two ideas for the curious mind to engage with:
I.
The late economic historian professor at the University of California, Berkeley, Carlo M. Cipolla on the five laws of human stupidity:
1. Everyone underestimates the number of stupid individuals among us.
2. The probability that a certain person is stupid is independent of any other characteristic of that person.
3. A stupid person is a person who causes losses to another person while deriving no gain and even possibly incurring losses themselves.
4. Non-stupid people always underestimate the damaging power of stupid individuals.
5. A stupid person is the most dangerous type of person.
Source: The Basic Laws of Human Stupidity
II.
Watts Wacker and Jim Taylor on vision:
"The only way to succeed in the marketplace today—the marketplace of individuals or products or services or ideas—is to know your own story and to follow it into the future. Define yourself by someone else's benchmarks, immerse yourself in someone else's possibilities, and you become the thing you define yourself by and immerse yourself in. Measure yourself against your own rate of change and you stay inside your own story. That way, when the other side ceases to exist, you still have a reason to go on. External and lateral competition is the distraction. Internal and vertical competition is the game. The real battle is against yourself."
Source: The Visionary's Handbook: Ten Paradoxes That Will Shape the Future of Your Business
* * *
Look for these ideas every Thursday on the Leading Blog. Find more ideas on the LeadingThoughts index.
* * *


Like us on
Instagram
and
Facebook
for additional leadership and personal development ideas.

Posted by Michael McKinney at 11:44 AM
Permalink | Comments (0) | This post is about Leading Thoughts