Leading Thoughts for February 25, 2021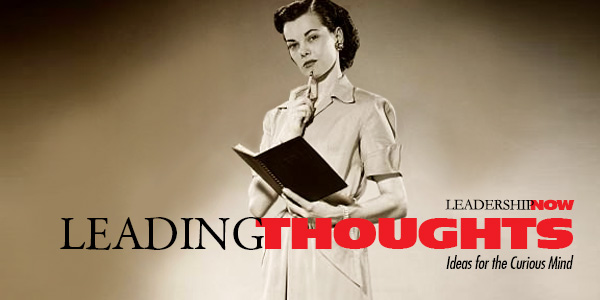 IDEAS shared have the power to expand perspectives, change thinking, and move lives. Here are two ideas for the curious mind to engage with:
I.
English philosopher John Stuart Mill on the pursuit of happiness:
"Those only are happy who have their minds fixed on some object other than their own happiness; on the happiness of others, on the improvement of mankind, even on some art or pursuit, followed not as a means, but as itself an ideal end. Aiming thus at something else, they find happiness by the way.

The enjoyments of life are sufficient to make it a pleasant thing, when they are taken en passant, without being made a principal object. Once make them so, and they are immediately felt to be insufficient. They will not bear a scrutinizing examination. Ask yourself whether you are happy, and you cease to be so. The only chance is to treat, not happiness, but some end external to it, as the purpose of life. Let your self-consciousness, your scrutiny, your self-interrogation, exhaust themselves on that; and if otherwise fortunately circumstanced you will inhale happiness with the air you breathe, without dwelling on it or thinking about it, without either forestalling it in imagination, or putting it to flight by fatal questioning."
Source: Autobiography
II.
Writer Jay Parini on E. L. (Edgar Lawrence) Doctorow's contribution to our understanding of the past:
"What Doctorow knew, and demonstrated in book after book, is that the past is very much alive, but that it's not easily accessed. We tell and retell stories, and these stories illuminate our daily lives. What 'really' happened – in family stories, in public tales – often eludes our grasp. And yet we need to know, or think we do, what happened, as it keeps happening again. History is never really 'over,' or so we discover, as we loop through the same issues again and again.

He showed us again and again that our past is our present, and that those not willing to grapple with "what happened" will be condemned to repeat its worst errors."
Source: CNN: E.L. Doctorow's Gift
* * *
Look for these ideas every Thursday on the Leading Blog. Find more ideas on the LeadingThoughts index.
* * *


Like us on
Instagram
and
Facebook
for additional leadership and personal development ideas.

Posted by Michael McKinney at 07:45 AM
Permalink | Comments (0) | This post is about Leading Thoughts