Leading Thoughts for January 14, 2021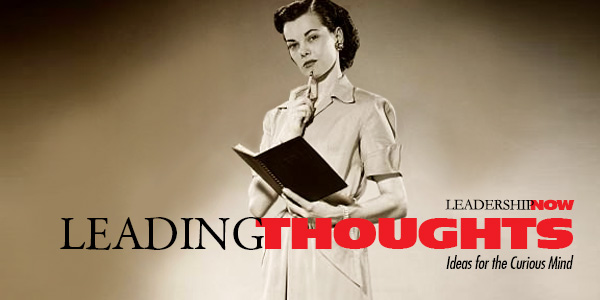 IDEAS shared have the power to expand perspectives, change thinking, and move lives. Here are two ideas for the curious mind to engage with:
I.
Elaine Kamarck on presidential responsibility:
"Despite of all the trappings of power—the big house on Pennsylvania Avenue, Camp David, Air Force One, never having to sit in a traffic jam (ever!)—the president is in charge of an entity over which he has fairly limited power. This is, of course, exactly the way the Founding Fathers wanted it. And yet, try telling that to the American public or to the world when something goes really wrong. As we have seen, large-scale governmental failure becomes presidential failure, whether the president likes it or not."
Source: Why Presidents Fail And How They Can Succeed Again
II.
Brad Stulberg and Steve Magnes on how to be passionate:
"Mindfully living with passion starts with realizing that passion in and of itself doesn't start off as either good or bad; it just is—a powerful emotion rooted in our biology and psychology. It's not something we magically find, but something that we develop by following our interests and incrementally devoting more of our time and energy to them. The next step to mindfully living with passion is to become aware of its dark side. Only by understanding the pitfalls of obsessive and fear-driven passion—and taking deliberate steps to avoid them—does passion gain the potential to be productive. But avoiding pitfalls is not enough. An equal challenge is bucking current trends that favor instant gratification and instead actively adopting the mastery mind-set: maintaining drive from within; focusing on the process over results; not worrying about being the best but worrying about being the best at getting better; embracing acute failure for chronic gains; practicing patience; and paying full attention to our pursuits."
Source: The Passion Paradox: A Guide to Going All In, Finding Success, and Discovering the Benefits of an Unbalanced Life
* * *
Look for these ideas every Thursday on the Leading Blog. Find more ideas on the LeadingThoughts index.
* * *


Like us on
Instagram
and
Facebook
for additional leadership and personal development ideas.

Posted by Michael McKinney at 12:00 PM
Permalink | Comments (0) | This post is about Leading Thoughts