Leading Thoughts for November 19, 2020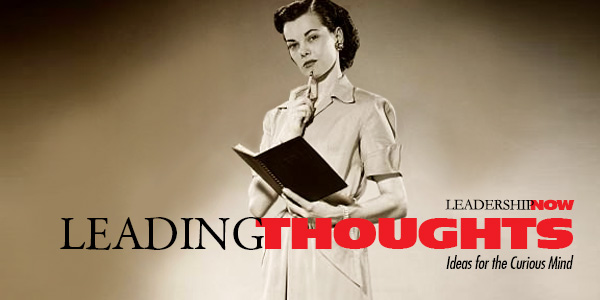 IDEAS shared have the power to expand perspectives, change thinking, and move lives. Here are two ideas for the curious mind to engage with:
I.
Gary Burnison on anticipating what lies ahead:
"You don't need a crysal ball to anticipate. Rather, you need to be acutely attuned to what's happening around you and in the world at the present moment. Once you see reality clearly, then—and only then—can you make the leap to extrapolate the meaning. You move from seeing only "this is what is happening now" to the lens "what this means for the future." In other words, based on what you know now, what are he consequences—both positive and negative?"
Source: Leadership U: Accelerating Through the Crisis Curve
II.
Ross Ellenhorn on personal accountability:
"That's how life works for most of us most of the time: we authentically take control of our existence only sparingly, and mainly pretend we're not in control when we actually are. All the theatrics stop, however, when we head twowaard personal change.

Change always makes you face your aloneness and accountability. That's an unavoidable fact about change: on the road from where you are to where you want to be—no one else—putting one foot in front of the other."
Source: How We Change (And Ten Reasons Why We Don't)
* * *
Look for these ideas every Thursday on the Leading Blog. Find more ideas on the LeadingThoughts index.
* * *


Like us on
Instagram
and
Facebook
for additional leadership and personal development ideas.

Posted by Michael McKinney at 11:39 AM
Permalink | Comments (0) | This post is about Leading Thoughts