Leading Thoughts for October 8, 2020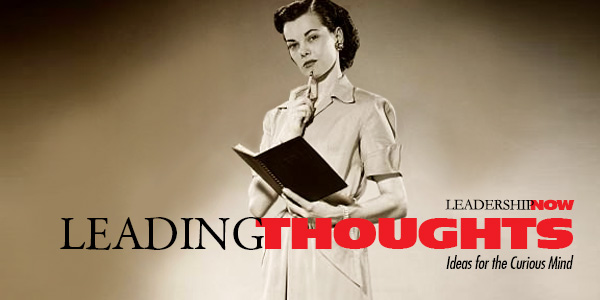 IDEAS shared have the power to expand perspectives, change thinking, and move lives. Here are two ideas for the curious mind to engage with:
I.
Hierarchies are not the problem, says Morris Shechtman:
"The criticism often leveled at hierarchies has nothing to do with the essential structure and function of the pyramidal model. These problems all come from one source, conflict avoidance. Hierarchies become dysfunctional when decision-makers don't want to confront redundancy and incompetence and instead bury the problems in another organizational layer. Or they find it too painful to confront difficult but key people who use legitimate roles and functions in illegitimate, destructive ways. Hierarchies don't do damage to businesses any more than alcohol creates problem drinking. Structures don't create problems; people do."
Source: Working Without a Net: How to Survive and Thrive in Today's High Risk Business World
II.
Robert Pirsig on dynamic learning or being at one with the process:
"Sometime look at a novice workman or a bad workman and compare his expression with that of a craftsman whose work you know is excellent and you'll see the difference. The craftsman isn't ever following a single line of instruction. He's making decisions as he goes along. For that reason he'll be absorbed and attentive to what he's doing even though he doesn't deliberately contrive this. His motions and the machine are in a kind of harmony. He isn't following any set of written instructions because the nature of the material at hand determines his thoughts and motions, which simultaneously change the nature of the material at hand. The material and his thoughts are changing together in a progression of changes until his mind's at rest at the same time the material's right."
Source: Zen and the Art of Motorcycle Maintenance: An Inquiry Into Values
* * *
Look for these ideas every Thursday on the Leading Blog. Find more ideas on the LeadingThoughts index.
* * *


Like us on
Instagram
and
Facebook
for additional leadership and personal development ideas.

Posted by Michael McKinney at 07:07 AM
Permalink | Comments (0) | This post is about Leading Thoughts